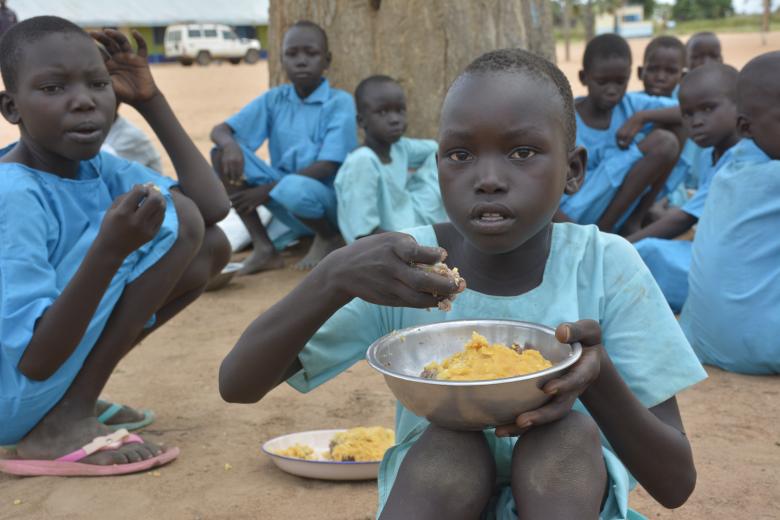 School meals help children concentrate in class
Friday, June 16, 2017
With 51 per cent of primary and lower secondary aged children not accessing an education, South Sudan has the highest proportion of out of school children in the world (UNICEF figures). Conflict and economic crisis are major factors why children are missing out on education, a key element towards a bright future.
 Keeping children in school is, therefore, one way of ensuring that they can secure a bright future and school meals, especially for those affected by the economic crisis,  is one way of ensuring that children do not drop out of school.
 "When you are hungry, you cannot concentrate in class and you are tired all the time," says 14-year-old William Deng. 
William is a Grade 8 pupil at Malualkon Primary School where World Vision is providing school meals for all the children.  
The children get one hot meal at lunch. "Sometimes this is the only meal of the day for these children," points out Simon Mawien Chan, the Deputy Headteacher.  
He says that most of the children walk long distances to go to school, and the school meal helps as they don't have to go home for lunch and go back to school for the afternoon classes. He adds that this gives them more time to study. 
William joined the school three years ago. The school he went to before did not provide school meals.  " I was always hungry because sometimes we don't have food at home. Sometimes I would leave school before the end of the lessons because I was so tired." 
And even when there was food at home, it was difficult for William to go home for lunch, as he had to walk for one hour and so most times when he did, he did not go back for the afternoon classes.  
"I now enjoy school and look forward to completing my primary education at the end of this year and joining high school. I want to be a doctor!" 
 Like William, the hot meal that eight-year-old Mary Nyikol gets at school is sometimes the only meal of the day.  
"I come to school to learn and I am happy that we get food in school, and it is very tasty," she says.