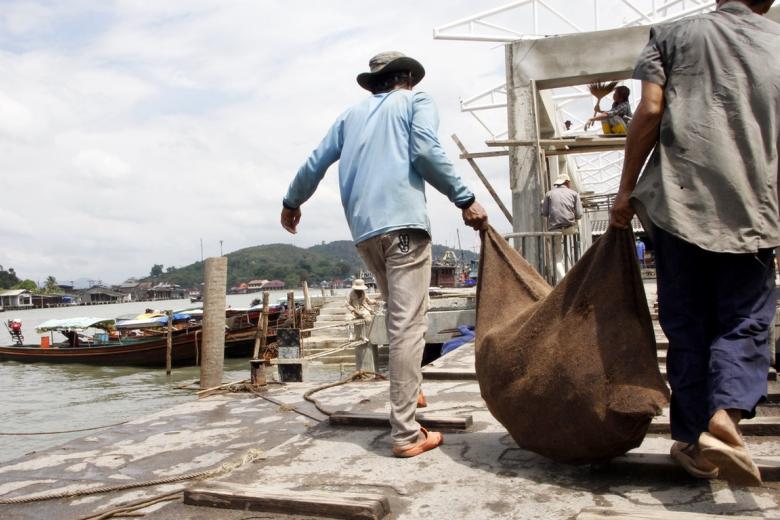 Seafarer's tale sheds light on undocumented migration
Thursday, April 14, 2016
His father worked as a postman since before he was born, earning very little income to support the family.
"When a broker in our village enticed me with a 10,000 baht (about $285 USD) monthly income to work in a seafood factory in Thailand, I did not think twice to go," recalls Zeyar*, 32-years-old and a native of Myanmar.
Rainbow-coloured fireworks and countdown parties greeted Zeyar when he arrived in Bangkok. The Thai capital was alive with waves of people on the streets ready to welcome the better fortune that the New Year might bring.
It was the first of January. Zeyar must have thought this new beginning would also bring him and his family in Myanmar the life they wanted, but he it was not to be. He was taken to Phuket, an island in southern Thailand.
Migrants flock the border provinces near the sea, like Ranong, via a boat ride.
"I was led to a room around five square meters big with 30 others. We were locked up from the outside. There was no way we could go out. The guard would only open the door during meal time which happened just twice a day," Zeyar narrated.
"After almost a week, I was issued a pink identification card and I was taken to a fishing boat. It was then that I learned that my job would be to fish in an open sea instead of working in a factory. I really had no choice because the company paid my transportation in going to Thailand. The broker said I owed him 23,000 baht (about $650 USD)."
Fishing boats where workers clean and repair nets, while preparing the necessary supplies for the next fishing expedition.
"We went five days fishing out to sea and were told we would have two days rest when we returned to shore."
Working day and night at sea was tough. They did not follow regular working hours. Most of the time, they were deprived of sleep.
They lay down kilometers of fishing nets and pulled them up to untangle and sort the fish, shrimp, and other catch until hundreds of blue drums were filled. They shoveled ice in layers at the same time so that the fresh catch made it to shore.
Local seafood market in Ranong where shrimp, fish and other catch are offloaded and sold in bulk orders to feed the province and neighboring areas.
Zeyar looked forward to a good night's sleep after 5 days of labour, but after the boat docked, his work continued.
"We did not rest. We cleaned the boat and put ice in several big buckets to prepare for the next sail. I bore in mind that I needed to raise 23,000 baht (about $650 USD) to pay off my debt so I endured the first month. I was paid 9,000 baht (about $250 USD) as my month's wage."
"I just took whatever I was given."
Not long after, a fellow seafarer who could not bear the relentless labour anymore, ran away. He contacted the Myanmar embassy who then alerted the Thai government.
"The authorities observed the people who came and went from our location. They noted the time of the day and the activities. Finally, on January 28, they raided the place," he continued.
Zeyar and his companions were rounded up and brought to the government shelter in Ranong province where they are being taken care of. World Vision, through the End Trafficking in Persons (ETIP) programme, helped them by providing personal hygiene kits, food, and an interpreter.
World Vision's ETIP team on a monitoring trip in the seaside province of Ranong. World Vision staff provide interpreter services and other intervention for migrants in cooperation with the government.
Zeyar awaits his fate at the shelter. He said, "Brokers are very terrible people, they step on others. They take advantage of people. Those who wish to come must do it legally with passport and work permit so they won't experience the risk that I had."
He is still in the shelter, waiting for the legal proceedings to finish, which can take six months to two years. He needs to testify and be interviewed as a witness against the broker and settle the lost compensation as well.
*Name changed to protect identity