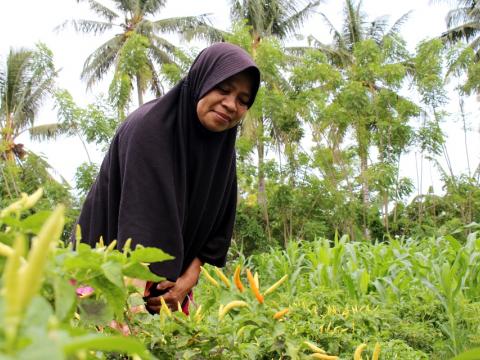 Shared Farms for Family Livelihood
Tuesday, January 30, 2018
As a housewife, Warda (48yo) does not have much money. She depends her life only on doing agricultural. Warda has her own farm. However, to provide the daily needs of the family, she owns a farm run with a farmer's group in Kayumaboko Village, Central Sulawesi.
Lindonulara is a farmer's group name and Warda is the leader of the group. She comes with nine people to support family livelihood by doing empowerment of seedlings and land in mutual cooperation.    
Warda and her group started the activity in 2012 when Wahana Visi Indonesia and Food Security Agency gave the seeds for them.  They looked for the land and started to do agriculture.
Now then Lindonulara group has two fields to continue working on. They still receive seeds from WVI and Department of Agriculture. Various crops such as eggplant, long bean, tomato, chili, kale, corn, spinach, beans and mustard greens have adorned this group's farm.
When the harvest time, every member took the yields into their own home. However, when they got many yields, they would sell them and buy poison or fertilizer.
"If we could not use poison, the grass would grow fastly," said her.
They can not control the farm every day because they have to manage their own farm. That's why Wirda and her group make a work schedule twice a week.
"We usually watering twice a week. We also have our own farm so that we can not go to shared farms all the time," she explained.
The rare rainfall and the difficulty of water become the big challenges for Lindonulara group. They are sometimes resigned to the condition.
For Warda and her group, the routine of seedling really helps the agriculture process. She hopes that if they will not get the seed in the future, the process of agriculture would continue during their lifetime.
"Someday we can organize and try to find the seeds for shared gardens. The point is, this work will be working on continuously," closed her.
Written by Putri ianne Barus, Field Communications Officer Wahana Visi Indonesia