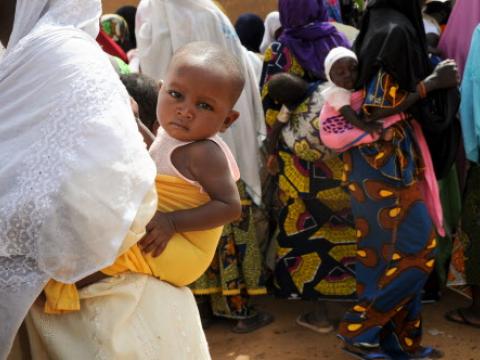 Smiles, laughter in the midst of crisis
Sunday, August 26, 2012
World Vision's Mariana Chokaa reports from Niger, a country left reeling from the drought and hunger crisis that has devastated Africa's Sahel region. At a local clinic, where one might expect to encounter the desperation of malnourished children, she instead observes a downright cheerful atmosphere.
What explains this? World Vision's early interventions amid increasingly dire conditions have helped save lives.
*     *     *
A mother waits with her child at the clinic. (Photo: Mariana Chokaa/World Vision)
The mothers who attend the Thursday meetings at World Vision's Center for Management of Acute Malnutrition in Koulikoira are women of simple means, some of whom have never been to the city.
They all tie their half-naked babies on their backs and are eager with outsiders. On this particular Thursday, there are at least 100 women, all with little babies.
It is not long before one comes up to me. She has seen my World Vision t-shirt and assumes I must be a doctor.
"Please tell me what to do about this," she says, pointing to a sore on her daughter's arm.
I point to the line of mothers waiting to have their babies measured for their nutritional status. But she looks at me and says, "No, mine is healthy — it is just the sore!"
I realize she is wittier than I imagine, and I quickly direct her to World Vision volunteer, who asks her to wait in line for treatment for the sores.
The little naked babies are being stretched out on a wooden measuring tool. One by one, their upper arms are measured to see how malnourished they are.
When I took on this assignment, I expected to find a grim situation. After all, Niger is suffering the wrath of a food crisis, so I was anticipating malnourished and miserable children all over the place with relatively unhealthy mothers.
However, I am surprised. The woman are loud — and they laugh often. The children smile and coo. I quickly notice that the majority of them are healthy.
There is a playful atmosphere here, as if people are celebrating. But why?
When the looming food crisis was declared by Niger's government, organizations like World Vision encouraged mothers to add Plumpy'nut™ to the diets of their children.
A baby is measured by World Vision volunteers at the clinic. (Photo: Mariana Chokaa/World Vision)
World Vision partners with the World Food Program and UNICEF to distribute this highly nutritious mix of peanut-based paste, sugar, vegetable fat, and skimmed milk powder, enriched with vitamins and minerals. It helps ensure that children's health is maintained even at times when there is not enough food.
The mothers who are here today may not be literate — but they seem to know what is good for the well-being of their babies, and they followed instructions.
"It is amazing what Plumpy'nut can do," says Dr. Naroua, World Vision's head of health and nutrition in Niger. "In the past, I have been to this clinic, and I have witnessed babies on the verge of death — but once we put them on Plumpy'nut, it is unbelievable the difference we see, even in just one week."
Many women in Niger have adopted Plumpy'nut and now depend on it to supplement their children's diets.
As I am leaving, the mother of the little girl with the sores asks me to take a picture of her and her daughter. It turns out the little girls is having an allergic reaction to a plant that she touched.
"Too bad Plumpy'nut cannot fix that," I think to myself.
Read related post: One small cry: Hassane's fight against malnutrition
Plumpy'nut can be a life-saver for children suffering from severe hunger and malnutrition — but it's just one component of World Vision's response to the ongoing hunger crisis in Africa's Sahel region.