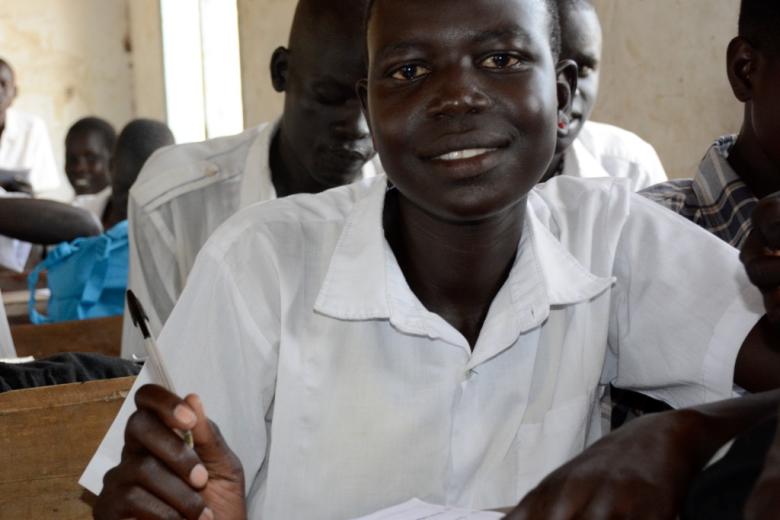 Take home food rations encourage girls to remain in school
Tuesday, October 11, 2016
Mary Achana is 17 years old and looking forward to joining high school next year.  Many girls her age are, however, not in the same position. Many of them have been married off and are already mothers.
Mary is one the girls in South Sudan who receive a take home food ration under the Food for Education programme that World Vision, in partnership with World Food Programme, is implementing to encourage more enrolment and retention in school.
"Here in Aweil, the enrolment of girls and retention was found to be quite low. The take home food ration encourages parents to send the girls to school and keep them there. They receive a monthly ration of 9.9 kgs of Sorghum and 3.6 litres of cooking vegetable oil," says says Garang Aleu, World Vision's Food Assistance Officer for the Greater Bahr El Ghazal.
According to David Deng, the Head Teacher of Madhol Primary School where Mary goes to school, the number of girls enrolled in the school has increased since the programme was introduced in 2014. 
"In 2014, the school had 253 girls, this increased to 315 in 2015 and this year we have 368 girls. The drop-out rate has also drastically gone done because in 2014 it was at 10%, in 2015 5% and this year it was at 2%," he says.
Deng adds that the performance of the girls has also improved because they are more focused on education and less worried that they will be married off.
"One of the reasons parents marry off their girls is to have one less mouth to feed so the food ration means that more girls have higher chances of remaining in school," says the Head Teacher.
Mary wants to be a doctor and being in school enhances her chances of achieving this dream. "Most of the doctors are men and I want to show that women can do as well as the men, " says Mary.