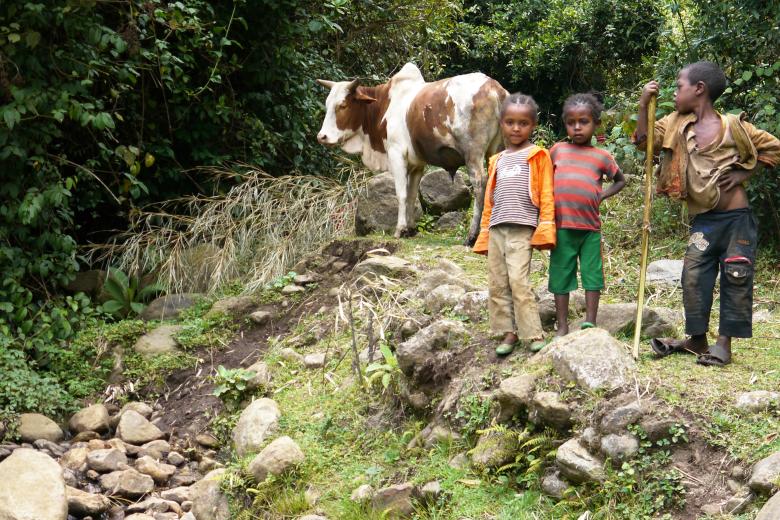 There is no drought here
Sunday, April 10, 2016
Legesech Debolah is 28 years old, has two children and can remember very well, when there was no forest. "The mountains were completely bare and when it rained, rocks and soil were washed into the valley and destroyed our houses and fields. An entire family died in a landslide," Legesech recalls. "In the past it was extremely hot and when drought struck we had nothing to eat." To fetch water, women had to walk long distances in the evenings. During the day, the water in the stream was too dirty because people used the it to wash their clothes in.
But that was ten years ago. Since then, World Vision has promoted a method called farmer managed natural regeneration (FMNR). It is based on promoting the growth of existing tree stumps and roots. An area is protected from animals and the tree shoots are thinned and pruned for one year. They regrow rapidly and after around a year, young trees cover the landscape. This type of reforestation is very effective because the original trees and plants are suited to the local climate and the roots are very hardy.
World Vision helped communities in Humbo and Soddo, Ethiopia, to reforest over 2,700 hectares. 
Other areas of the country are completely eroded and the fertile soil washed away leaving the landscape deeply scarred, like a scene on Mars. Ethiopia is currently suffering from one of the worst droughts in 30 years. As in many other African countries the El Nino weather phenomenon has unmercifully impacted the country. Currently, more than10 million people in Ethiopia are hungry.
Clean water flows again
Now, a spring flows near Legesech's home and she only needs to walk a short distance to get clean water for herself and her family. Thirteen springs which had dried up have returned and some flow all year round. A stream now flows perennially, creating a water fall on its way down the mountain. The weather in Soddo is significantly better than in neighbouring areas that are affected by the drought - a light wind blows through the forest and clouds gather in the sky above. The mountains are green with forest and rain is on the way. The scenery was impressive, especially in contrast to the dry fields and deforested mountains that travellers pass on the way to Soddo.
Full grain storage barns despite drought
Around Soddo it has been five months since it last rained. However, people were able to stock-up on grains, vegetables and other foods that they are storing until the next rainy season. Their stores are full of maize and teff. One of the five cooperatives on Soddo currently stores 118 tons of grain so that, despite the erratic rains, people are not hungry. Up until, May families will be able to buy grain below the market price from their cooperatives, helping them survive the drought. Any grain not required by the community will be sold at market price and some is given to the most vulnerable in the community.
The community earned around USD800 last year by selling high quality honey. World Vision wants communities to increase their productivity further so that they can export honey on a large scale.
Grafted apple tree seedlings are currently sold at a good price in markets. In addition, as the forest grows, five cooperatives in Sodo and seven in Humbo receive payments for carbon credits. The money has been invested in a number of initiatives including grain storage barns, grain mills and traditional huts for tourism. Carbon payments have also been used to establish a revolving loan fund for community members.
People are now planning to host tourists in the area as it becomes known for its beauty and the range of birds and other wildlife (leopards, wart hogs, porcupines, gazelles, hyenas and monkeys) that it now attracts. In a nearby lake, tourists come to see crocodiles and hippos.
The region around Soddo is booming. The markets are full of produce and two universities and hotels are being built.
In 2013, seven years after the start of the Humbo reforestation program, the Humbo cooperatives sold 106 tonnes of grain to the World Food Program (WFP). This is a complete reversal of the situation before the forest returned. The region suffered from drought repeatedly over 20 years and regularly received food assistance from WFP. When the rains came, water, rocks and soil slid off the mountains, ruining crops and destroying infrastructure. As the forest grew, flooding ceased and agriculture became viable again. With renewed confidence farmers began investing in seed and fertilizer and began using modern farming methods. Crop yields rose substantially.
At the recent Paris climate conference the Ethiopian government committed to reforesting 22 million hectares of degraded land.
In line with their Green Development Strategy, alternative energy production from wind and solar energy is on the rise. But forests are not only important for reducing carbon dioxide, they are also of great importance for the health and nutritional status of the communities - especially children. Forests satisfy hunger and thirst, and are  changing the microclimate.
The children here in Soddo show no sign of hunger or malnutrition. Full of energy they laugh and smile.