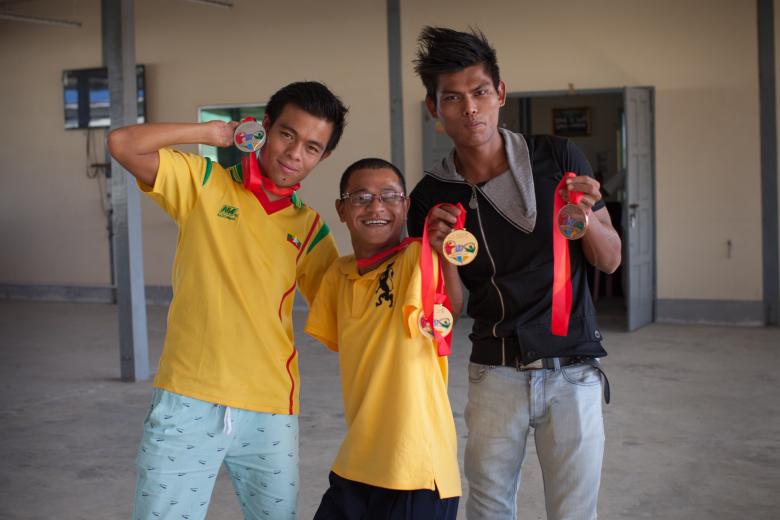 The three inspiring stars
Tuesday, February 23, 2016
Who says a person with a disability has no hope for the future? Meet three boys who proved that hypothesis wrong.
The first boy is Aung Nyein Oo, now 28. He lost his both arms in accident. Without giving up, Aung struggled and joined the disabled swimming club. He became a swimming champion for Myanmar.
Aung's endurance and effort paid off in 2011 at the South East Asia Games in Jakarta, Indonesia, where he won two gold medals. He became well known in Myanmar after he grabbed two more gold's in the 50 and 100 meter swimming events at the 2014 South East Asia Game in Nayipyidaw, Myanmar.
Aung remembered the encouraging words that helped him along the way.
false
"Like songs and stories that we learned from Teacher Apollo [veteran staff member of World Vision's drop-in center], that we need to have endurance. If we don't give up and try hard, we will be successful one day," says Aung.
The second boy is named Phyo Ko, age 24, who met World Vision at the age of 4 and a half when he got in an accident. He lost his right leg below the knee. As Phyo was a smart boy, he stayed at WV hostel and was sent to school until grade 11. Unfortunately, he did not pass high school exam.
Later on, he connected with another local foundation that supported him to participate in sports, track and field as well as swimming. Each year since 2007, Phyo has joined the ASEAN Para games and won prizes every time.  
The youngest among the three is Myo, now 21, who lost his left hand, some fingers and toes in an accident. He is now a swimming champion representing Myanmar. He won one silver, and two bronze medals in swimming at the ASEAN Para games in 2014 held in Nay Pyi Taw, the capital of Myanmar.
false
Myo says, "World Vision is like my parents. If my teacher had not cared for me, I would not have become a champion. I would end up wild, shy and falling behind." He was reconnected with his mother and sisters. He goes to see them whenever he gets long days off from the training.  
What connected these three young men?
They were once under the care of the World Vision Myanmar Street Children Project in Mandalay. They gained confidence and strength from the care, support, and encouragement of the dedicated staff members who worked there.
World Vision Myanmar is thrilled to see the boys grown, successful, champions for the country, and standing on their own.
In the recent ASEAN Para games held in Singapore, they all won the prizes. Aung and Myo met at the 100m breaststroke final, winning gold and silver respectively out of the 6 contestants.
Aung beat the previous record and Phyo also earned one gold medal in the 400m relay and one bronze in the 100m backstroke.
"We make a big investment (human, financial, technical & time) in this project. But this is a very pleasing achievement for both the children and the project. Thank you so much the donors. The kind support benefits many hidden lives," says Seng, the Street and Working Children (SWC) Project Coordinator for Mandalay.
"I'm very proud of Aung's achievement. I remember the times I gave him encouragement while he felt depressed. I will be a trusted friend for him forever," says Saw Apollo, Child Development Facilitator for Mandalay SWC project.
These young men have made the country proud. World Vision Myanmar is delighted to see the street boys transformed to become change agents whose stories are inspiring for those who lose hope.