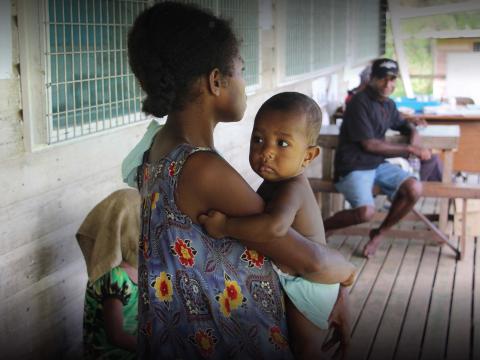 Treat each other with respect
Friday, April 6, 2018
Easter is a time to reflect on the resurrection of Jesus Christ.
The period is symbolic and represents restoration and a new beginning to treat each other with respect, dignity and equality.
Careful study of the four gospels in the New Testament show that women played important roles in Jesus' ministry on earth, and many continue to do so today.
A significant woman in the story of Jesus is his mother - Mary, who played an important role in his upbringing; she witnessed his crucifixion and the pain he had to go through. Another is Mary Magdalene who was the first woman to speak with Jesus after his resurrection. This signifies that Jesus had a different view of men and women; he valued each gender as equals and welcomed all as part of his ministry.
Jesus's stance was not new at all; gender has always been equal since the creation of mankind, thus women are equal partners of men and each is supposed to share all their responsibilities together.
World Vision promotes child protection and gender equality through its various projects with other partners to create awareness and to educate people on the importance of gender equity. One of its ongoing projects is the Action Against Gender Based Violence: Engaging Men, Youth and Children. The project is supported by the Australian Government and aims to reach 13,778 people with primary and secondary violence prevention activities between July 2017 and June 2020.
 The project is focused on the prevention of Gender Based Violence (GBV) in both PNG and Vanuatu. In Vanuatu, the project has been rolled out in the provinces of Luganville, Santo and Port Vila.
In PNG the project is being implemented in the National Capital District (NCD) with its first phase of data collection completed through conducting surveys in selected schools and communities.
Donald Kanini, the project manager said "the project is a three year project targeting two areas in Port Moresby with the goal of transforming harmful norms and behaviour amongst children, youth and male offenders. It also aims to strengthen faith and customary leaders' ability to address GBV in their communities."
Mr Kanini said, "The project will be training faith leaders as advocates against GBV."
Still, for a country like Papua New Guinea with more than 800 languages and a thousand different tribes, clans and various cultural practices where the male is seen as the leader or head of the family, inspiring behavioural change is a huge task. But just because the task is difficult, it does not mean gender equality can't be achieved.
GBV is a sensitive issue in PNG with research showing that about half of the country's female population have faced some form of violence.
World Vision's Gender Baseline team under the ongoing project visited 7 schools within NCD, Port Moresby. The purpose of the survey is to understand the students' and teachers' views of GBV, as well as to find out if there are existing teaching materials that promote gender equality within these schools.
Of the seven schools visited, Port Moresby Technical School (POM Tech) was the only tertiary institution that took part in the baseline survey which saw a good turnout of students who were keen to learn about GBV, ask questions and get answers from the World Vision Team.
Deputy Principal – Administration, Simon Nausi showed immense interest in the project and encouraged World Vision to continue conducting surveys and to visit more schools to get views from students and teachers regarding GBV.
Mr Nausi said, "It is good to come to institutions to get firsthand information on how youths react with each other, the elderly and the young".
He said this type of awareness is timely and will enable students to understand their responsibilities toward others within their communities. Mr Nausi said, "Schools should make this part of their curriculum under subjects like guidance or personal development."
He said POM Tech has curriculum that emphasizes on Gender Equality which is taught to students through their personal development (PD) classes.
Mr Nausi thanked World Vision for taking the step as the first NGO to visit POM Tech to conduct the survey on GBV, he added that other NGO's have spoken about the issue but have never visited the institution and he is grateful for the effort.
In total from the visit at POM Tech, sixty – seven students took part in the survey comprising of 61 male students and 6 female students. Six teachers also took part in the survey consisting of 5 males and one female staff.
The team is now finalising the data collected to prepare for the next phase of the project. The next phase of the project will be a series of workshops with the first themed "Gutpela Laip (Good life) which will place more emphasis on a faith – based approach where Sunday and Sabbath school teachers' will be asked to attend.
 The Gutpela Laip workshop is expected to commence this month after a training session is conducted for workshop facilitators.