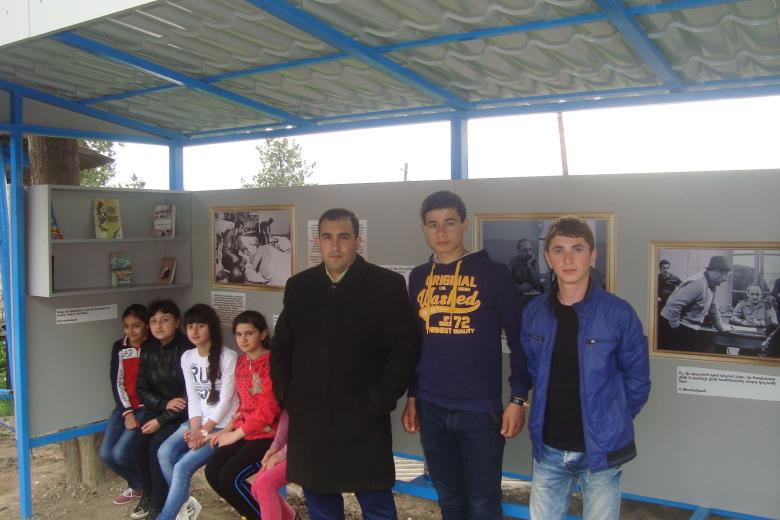 Vehicle for Social Change: Evolving role of IMPACT clubs in rural Armenia
Thursday, July 21, 2016
Long wait times for a bus at a stop in Khashtarak village in Tavush marz are no more a mere daily routine, but rather a useful engagement. Villagers waiting to catch a bus there, now have an opportunity to embrace new knowledge right at the stop - proudly called "Smart Station".
The bus stop has rapidly turned into a sightseeing spot of Khashtarak, since not only does it act as a public library furnished with bookshelves, but also displays posters, maps, and images featuring diverse landscape of the village - scenes where "We and Our Mountains", a well-known Armenian comedy was filmed.
Innovative approach has transformed the bus stop into a symbolic point, bridging the past and the future, recollections of the elderly and appreciation from the younger generation.
Renovation works were carried out by Khashtarak school students, members of World Vision Armenia's IMPACT club, with the support from the local municipality. Apart from promoting social participation and youth involvement in community issues, this initiative comes to enhance the culture of engagement at the community administration level.
Village Mayor A. Virabyan, co-sponsor of the project, thanks World Vision Armenia for the support and expresses delight over the pupils' enthusiasm: "We are open to support any project aimed at the community development and will have a personal contribution to that."
"Smart Station" project is just one initiative of the IMPACT club operating in Kashtarak. A total of 50 clubs are functioning in Armenia's 7 marzes with the involvement of 800 members.
Whether it is leadership training in Sisian, or community mapping in Ijevan, the clubs bring together teens aged 12-17 to educate them about active citizenship, employability, social entrepreneurship and leadership by using non-formal, experimental learning methods.
Attending the club, youth learn to identify community problems, brainstorm and work together, design and implement strategic community service projects. The clubs help to develop positive self-identity and acquire life skills, complementary to the knowledge achieved at schools.
"All of us are inspired for being a part to IMPACT. We look forward for the next project," says a club member, 17-year-old Michael.
While World Vision Armenia envisages the project to be self-sustaining in the future, necessary means would considerably ensure the uninterrupted functioning and enhancement of the clubs throughout Armenia.
As practice shows, young adults are eager to learn new skills, positively shape behaviors, attitudes around their community and beyond.