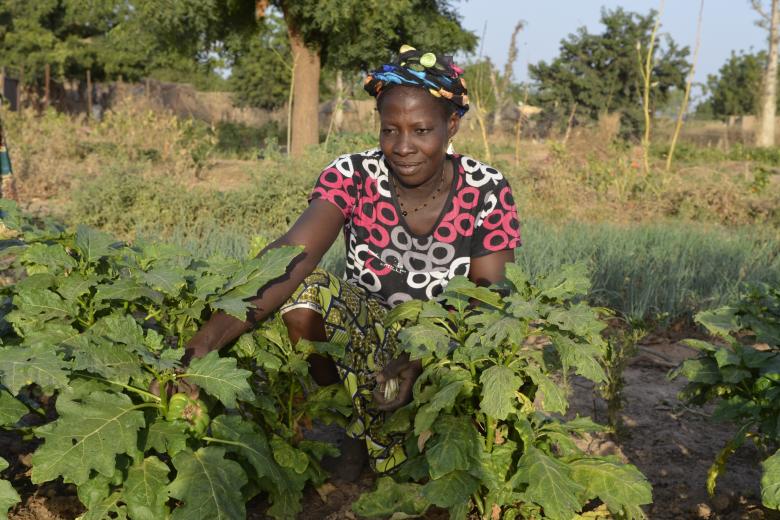 Village Market Gardens Fight Against Childhood Malnutrition
Thursday, February 25, 2016
Zirakorobougou is a village located in Beledougou ADP, 30 kilometers from Kolokani. With the effects of climate change, children in the communities were suffering from malnutrition. Local inhabitants used the little rain water they received to cultivate millet (a grain for cereal) from June to September. After that period of the year, they had difficulties to get water for the crops, let alone clean water for children to drink because of the severe consequences of drought.
Thanks to World Vision's market gardening initiative, one hundred and twenty one women are gardening a 6 acre plot of land. This garden area is fenced, and has a water pump served by the borehole which World Vision drilled in the village. They cultivate several varieties of vegetables including: sweet green pepper, eggplant, lettuce, onion, tomato, sweet potato, leaves for sauce, and cabbage. The vegetables are used for their families, and for selling in the market. "With this garden we received from World Vision, my life condition has improved. I earn much more money than before. In 2015, I have earned about 400,000F (the equivalent of $US 500) for the well-being of my children, particularly in school materials, money for snacks, shoes and clothes. I could also afford to pay for other family expenditures," Konimba, 37, the mother of Kadi said. Kadi has two brothers, one who is sponsored child.
According to Kolokani administrative authorities, more than 4,000 children reside in the area and benefit from the products of the village garden during the whole year, thanks to the water pump that serves for watering vegetable plants.
In Zirakorobougou, women and children used to go far from the village to gather water for drinking and cooking during dry season. Manual water pump inside village market gardens changed the life of communities thanks to the intervention of World Vision. In addition of having clean water, women have more vegetables and fruits for the well-being of children. "Thanks to the village market garden, children in our community can consume diverse kinds of vegetables; they eat fresh, and cooked in sauce. They are now healthy and happy to continue their education healthy," Konimba said.    
Now, children can continue their education healthy, and women are no longer worried about getting water. They can sell the products of their gardening in neighboring towns' market places. Local women now fully participate in local economy.