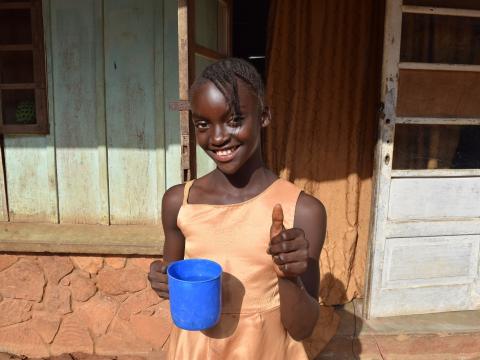 Water access improves sanitation and health in Congo's communities
Friday, January 27, 2017
"I realized my children were often sick because of the dirty water they drink. Our source was far away from our house and it takes me an hour of walking every day to get water for our consumption. It was very tiring for me", says Maguy Olomi, a mother with five children. The family lives in Saza area which is three kilometers from Gemena, a district northwest of the Democratic Republic of Congo.
Her misery ended when World Vision, together with partners such as the Catholic Molegbe, the Evangelical Community of Christ in Ubangi (CECU) and Evangelical Community of Ubangi Mongala (CEUM. The Health Zone contributes to train and sensitize the community member on water management and hand washing among othere. The two wells were built bringing the water closer at 16 kiosques or water fountain. Finally the residents of Saza have clean drinking water after suffering for a long time. Life for Maguy Olomi has considerably improved, including her children's health.
Franck Mungombe, World Vision's Water, Sanitation and Health technician in Gemena, explains "Gemena, has approximately 306, 762 inhabitants in the province of South Ubangin, northwest of the country. We have projects only in Gemena but they are in the most vulnerable areas where there is acute problem of access to clean water. The Saza area has a population of 20,014 people and Gemena III area has 24,780. These are quite sizable."
In Saza, World Vision drilled two wells with mechanized system and two tanks which works with the immersed pump powered by solar panels connected to a net-work with 16 fountains. This serves almost 16,043 people. In Gemena III two springs connected to reservoir that conveys water down to 10 fountains serves 6,388 people and in Mayi Poto, 1,909 people. An estimated 12,000 people benefits from Libenje Spring harnessed in Libenge Moke area.
"Since we started having clean water closer to our house, my children are healthier and I do not spend money to send them to the health center", says Maguy Olomi. Her husband Toasamona, 42, agreed of the importance of water to his family. Now he does not worry when he leaves for his cycling trips because his family has steady supply of water is permanent. He can even wash himself before going to bed which was a luxury before the water supply came.
"I used to wash myself in the stream. When I come back, I look dirty because of the long distance that I need to walk. The way to the stream was full of sand. With water in the house, I can now wash myself anytime. My 10-year old brother Giscar and I can also drink clean water and we do not suffer stomach trouble anymore", says Saverine, 11. "The water supply World Vision brought to our community has helped many families and reduced water-borne diseases," adds Maguy Olomi.
In another village in Gemena, 11-year old Marlène Kayembe, used to drink water from the muddy stream a kilometer away from their house. The youngest in a family of five girls and one boy, Marlene said she suffered with stomachache and diarrhea most of the time. "My mother takes me to the health center frequently. I often missed school and my performance was poor," says Marlène. Responding to the need for clean water and help reduce incidence of water borne diseases, World Vision worked in partnership with churches, the government and other partners to develop a spring at Ipok, building a water reservoir of 40m3 that delivers supply to 10 fountains established in Gemena III.
With improved access to clean water, the people do not walk for long distances anymore. "Now that a fountain is located in our yard, I drink clean water, wash three times a day and no long have stomach problem," says Marlène. "I attend school regularly and I am healthy," she concludes with a smile. Marlène and her family thank the donors, World Vision and its partners for their support to the people in the Gemena community, especially the children.
"The program is integrated with other projects such as health, nutrition and education spanning 22 different programs and three grant projects. They all aim to improve the children's well-being by enabling communities to have access to potable water, improved sanitation facilities and good hygiene practices" says Billy Baraka, technical specialist. Over 122,200 people, exceeding the planned 65,000, are benefiting from improved water access, an additional 52,453 people have enhanced sanitation facilities and 103,906 people have participated in hygiene activities.