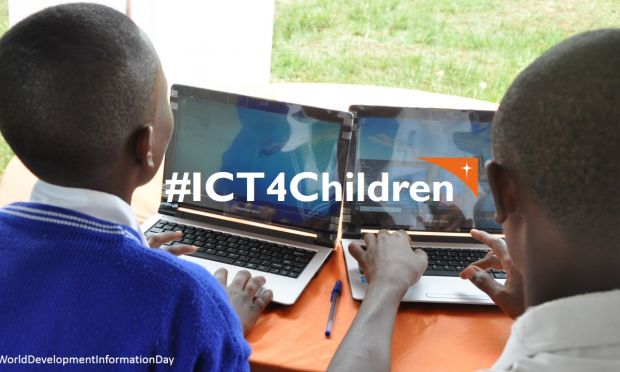 Marked on 24 November, World Development Information Day (WDID) highlights the important role of Information and Communications Technology (ICT) in fostering access to information and knowledge, economic growth, and social inclusion that enable the economic and social development of all individuals -especially the most vulnerable. Through its Information and Communications Technology for Development (ICT4D) and Information and Communications Technology for Education (ICT4E) Projects, World Vision has been using ICT as part of its humanitarian and development work for many years. The organisation uses digital technology in different ways to increase the impact and quality of its interventions worldwide.
In Rwanda, World Vision has been implementing ICT4E projects within its education working sector and its ICT4D projects within its livelihoods improvement working sector to ensure that the most vulnerable children, youth, and communities benefit from ICT in as many ways as possible. World Vision Rwanda (WV Rwanda) has been a key partner in the putting in place of Community Knowledge Centres (CKCs) in rural areas countrywide (23 in total at the moment), in support of the Rwandan Government's initiative of transforming Rwanda into a knowledge-based economy as part of its Vision 2020. CKCs are centres for innovation which have helped community members –especially farmers in very remote parts of the country– to access timely information on farming, crop pricing and the market situation in general. The centres are usually equipped with internet-connected computers, printers, books, newsletters, journals, research reports or papers, and electronically-stored information (on CD ROMs) and web-based resources.
Through CKCs, 1469 Rwandan youth were trained in ICT between 2015 and 2017. Additionally, CKCs have also helped teachers to prepare lessons, and connectivity has enabled students from various schools to carry out research. WV Rwanda has also worked with different partners to train the youth in ICT as part of its digital literacy campaigns.
WV Rwanda has partnered with Microsoft on an initiative that's built to foster youth workforce development in the country, act as an employability and entrepreneurship forum, as well as support and enhance employability and entrepreneurship skills for young people. A platform called the Tambuka YouthSpark Portal was developed to create an opportunity for all young people to learn computing – a foundational subject that includes both ICT and computer science, and teaches students about the world around them; empowering them to become well-informed citizens and imaginative creators in our complex and ever-changing global society. The primary objective of this initiative is for all young people to gain access to computer science learning that will help them to be better skilled and prepared to obtain jobs, or continue their education or training. Last year, through the YouthSpark initiative and in partnership with the Ministry of Youth and ICT (MYICT), 600 young Rwandans were trained in digital literacy and received certificates.
Click here to read about how World Vision and its partners have been using technology to boost literacy and reading assessments among children.
Within the livelihoods improvement working sector, WV Rwanda introduced an important innovation called 'e-Hinga', which is a web and mobile-based application designed to provide Rwandan farmers with updated information regarding various crops and livestock via their mobile phones. In modernising farmers' access to information, e-Hinga has positively influenced the investment decisions of smallholder farmers and contributed to the improvement of their livelihoods overall. The instructions in the app have been created by WV Rwanda with support from the Ministry of Agriculture (MINAGRI).
Since she started using the app, Marguerite, a farmer from Nyaruguru district, has been able to double her production, and laughs at her old practices:
"Before e-Hinga, I was using beans fertilisers on tomatoes!", she says.
Read Marguerite's full story here.
WV Rwanda has also, through its CORE (Creating Off-Farm Rwandan Enterprises) Project, established 15 more CKCs in Rusizi and Nyamasheke to empower 5789 women and youth in off-farm businesses by using ICT as an important component. Today, these women and youth are able to market and sell their products on social media and on the e-Haha website, created by WV Rwanda for the primary purpose of products and services advertising. KOTUMU, a cooperative specialising in welding services based in Rusizi, has doubled its income and started selling beyond Rwanda borders following training in online marketing from WV Rwanda
"My monthly income has doubled from US$25 to US$50 since we started using ICT in our work," Charlotte, a member of the KOTUMU team, affirms.
Read Charlotte & KOTUMU's full story here.
As WV Rwanda continues to work persistently to achieve development goals through the increasing use of ICT, more projects such as e-Health are under preparation to support this cause for the coming years.
"e-Health will be a phone application that will be used as a monitoring tool for infant and maternal health. We expect this application to improve the knowledge and skills of health workers as they will be accessing instant information for better decision making," Keith Bunyenyezi, World Vision Rwanda's ICT Manager explains.