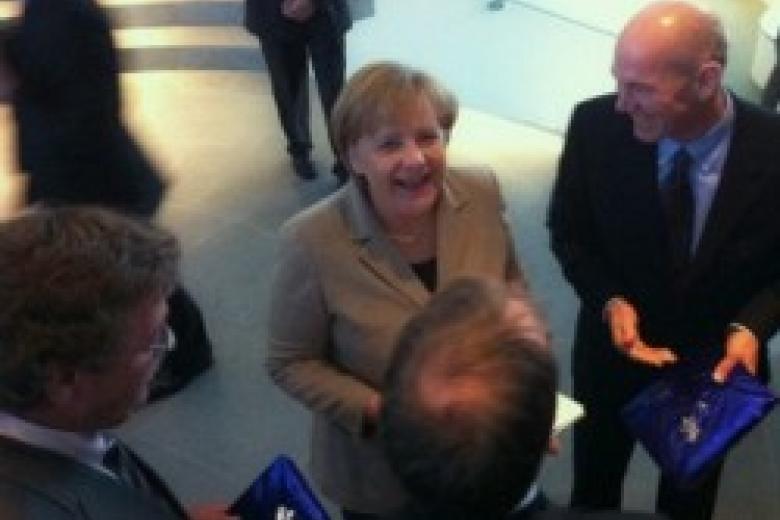 Weaving a global relationship
Friday, November 26, 2010
WVI President Kevin Jenkins presented the German Chancellor, Angela Merkel, with the gift of a silk scarf - and along with it, a heart-warming story from a World Vision project in Cambodia. The occasion was a reception with Mrs Merkel on 26 November.
The scarf had been made by a Cambodian lady, Ouch Sophanna, 30. She is part of a women's collective which received loans through a VisionFund microfinance subsidiary. The descendant of a long line of silk weavers, Mrs Sophanna, her cattle-breeding husband Sem, two sons and a dependant mother, were all living from meal to meal before they joined the project.
She received her first loan three years ago and soon repaid it. Now she has received her third, enabling her to buy land for rice growing. Mrs Sophanna's house has been repaired, the family have assets and a regular income and, perhaps best of all, they have been able to employ 15 more people. 
"I plan for my two boys to complete university education," she told World Vision staff when they bought the silk from her to give to Mrs Merkel. "My wish is for my eldest son to become a medical doctor and the younger one to be an NGO or company employee."
Above - Mrs Sophanna demonstrates the results of her weaving skills. ©2010 World Vision International
As her two sons are only aged 10 and three, it might seem rather early to be planning their careers. The eldest is in the child sponsorship programme, however, and that – coupled with the security of a thriving business - has encouraged the family to make big plans.
"With the continued support of World Vision and VisionFund, I hope to fulfill my dream for my family one day," said Mrs Sophana.
Christoph Waffenschmidt, World Vision Germany's Chief Executive Officer, asked Mrs Merkel to help the world maintain momentum in reducing the toll of preventable deaths among children under five, and explained World Vision's work through its Child Health Now campaign. 
The Chancellor said her concern for the health of children and mothers is heart-felt. 
"Without healthy children and mothers, no country has a future," she said, promising to look for opportunities to champion the weakest of the world`s community.