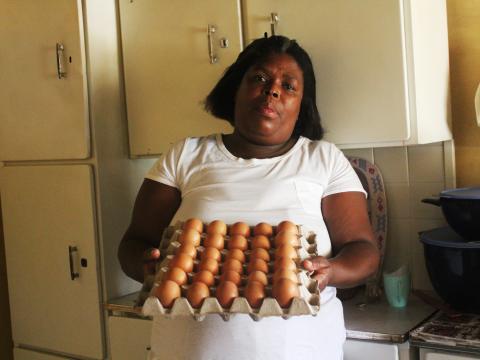 A widow becomes a successful chicken farmer
Wednesday, April 10, 2013
This is a success story   of 'Maatang  Lebasa ,(46) a widow at Thaba Nts'o  centre  whose  life has been  positively impacted upon by Mokanametsong ADP. Maatang has not only sustained an income generating project of chicken rearing , started  for them by World Vision Mokanametsong  ADP, but has even managed  to become a successful   business woman. Her elder son Atang(26) has followed in her mother's foot- steps.  The family is now keeping about 400 chickens.
It is around 2.00pm afternoon. Maatang has just grouped eggs according to the quality for the market. Then she sees world Vision vehicle approaching. She stops immediately as if to say "I have to give them all my attention" When   I look at the dozens of eggs inside the house, I look around to see a chicken house but sees none. I begin to wonder where so many eggs could be coming from.
As if reading our minds that we have come to learn about her business she says" When I see this vehicle   I see a God sent angel that has come to save people's lives. I will always give this organization respect for I am who I am because of what it has made me."
 WV: "but I see the eggs; I do not see the chickens. Where are you keeping them?" I asked
 Maatang: " because we are now keeping quite a number,  we have decided to move them from home to a larger place, and it is bit far from here.''
 WV"Please can you tell us, how it all started and what you real mean when you say world vision has changed your life"  
 Maatang : "When my husband got retrenched from the South African mines in 1996, I lost hope. I got very worried of how I will raise the children. I was just a house wife who had never thought of any business venture. My neighbour approached me into joining   a network of women whom world Vision had decided  to assist in rearing chickens as an income generating project. We were divided into groups and ours proved successful. Amongst our group some women had been trained in nutrition 
 WV:"but how did you manage to withstand the challenges all these years?"
 Maatang "Correct book keeping on income and expenditure was our motto. Even as we do it individually now, that still assists us."
 Maatang has been sustained by chicken rearing. Even when her husband died, she had sustained her business. Her children were able to complete their high school education because of the money she earned selling eggs.
The elder one Atang 26, though married now is also running his own chicken business. The younger one is now at the tertiary institution, studying accounts.
Her child who was sponsored by world vision died in 2001, but for life goes on.
"World vision has given me life. I teach, clothe and feed my children because of the income from the chickens.