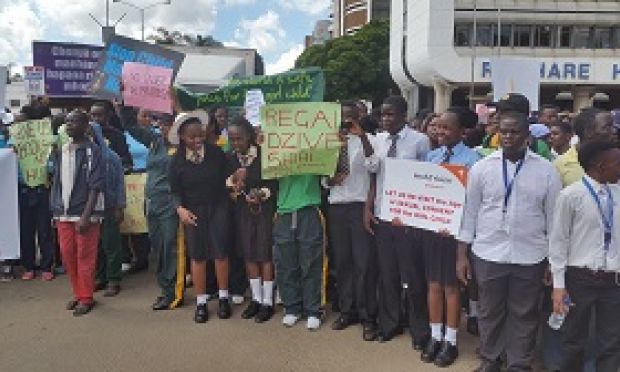 World Vision Zimbabwe (WVZ) has congratulated the country's Constitutional Court (ConCourt) for receiving the Women's Link Worldwide Gold Gavel Award 2016 following its landmark ruling abolishing child marriages.
The international award for the ConCourt is a testimony of the country's commitment to ending child marriages which have deprived children of their God given right to enjoy life to its fullness.
In his congratulatory remarks, World Vision Zimbabwe National Director Mr. Emmanuel Isch said the award sees Zimbabwe joining other countries in Africa and around the world working towards eliminating child marriages that have not only threatened children's future but also fuelled violence against them.
"The award is a recognition of the Government's efforts to end child marriages. I am aware that the Government and various stakeholders are working on legal mechanisms to align the country's marriage laws to abolish child marriages as well as domesticating provisions of the Southern African Development Community (SADC) Model Law prohibiting child marriages adopted in 2016."
"But we also recognise the need for action and the importance of speeding up the processes so that children are protected from all forms of violence. World-wide, each year, 15 million girls are married before they turn 18 years."
Once the ConCourt ruling is aligned to the country's laws it will contribute to the World Vision International's global campaign, 'It takes a world to end violence against children' which aims to catalyse a global movement of people and organizations committed to keeping children safe from harm. Its name reflects the fact no one person, group or organisation can solve this problem alone," said Mr Isch.
Violence against children takes many forms including physical, emotional, and sexual. Many children in Zimbabwe and around the world suffer other harms – through abuse, neglect, exploitation, trafficking, child labour, early marriage, and other harmful practices. Violence affects more than one billion children every year world-wide.
According to Women's Link Worldwide, the Gold Gavel Awards are allocated to judicial decisions that promote gender equality. The awards aim to highlight judicial performances that protect and guarantee the right to equality and protection in the face of discrimination.
Zimbabwe's Constitutional Court received the recognition following its landmark ruling passed on 20 January 2016, which declared that Section 78 (1) of the Constitution sets 18 years as the minimum age of marriage and that any law to the contrary was unconstitutional.
The court ruling also declared as unconstitutional, section 22(1) of the Marriage Act as well as any custom which had previously legalised marriages of children below 18 years old.
World Vision will continue to partner with Governments and other stakeholders towards building a better world for children, where they are protected, cared for and given the opportunity to live up to their God-given potential.