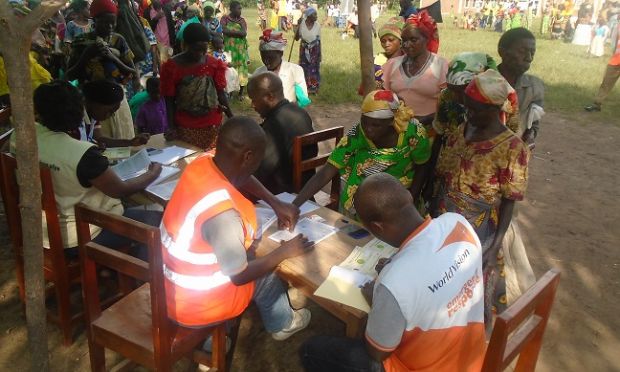 "Now I have enough food to feed my children especially when the harvest is poor. I received food support such as maize flour, small fish, beans, salt, oil, and three chicken from World Vision. With the small livestock provided to me, I can afford now to take better care of my children; I can afford school fees, their needs and pay hospital fees if needed. I am very grateful for the support my family got from World Vision", says 30-year old Mawazo Sebashi, mother of five.
Mawazo is from Busanza area which composed of several villages, where since November 2012, the majority of the population have fled from the conflicts in Rutshuru territory, North Kivu in the Democratic Republic of Congo (DR Congo) and some parts of Uganda. And they came back in their villages in 2013. World Vision's Food Assistance Project provided 600 beneficiaries with vouchers valued at US$39 per month to buy food from selected vendors during three months. In addition, each household received three chicken to raise for small livelihood start-up.
She describes the project as "a relief for the Busanza". The voucher system was used in responding to the needs of the community, making it possible for all beneficiaries to be reached. Charlotte Jashimo, 32 and mother of 6, said she always worried to see her small my children go to bed without food and not able to afford the hospital fees when they are sick.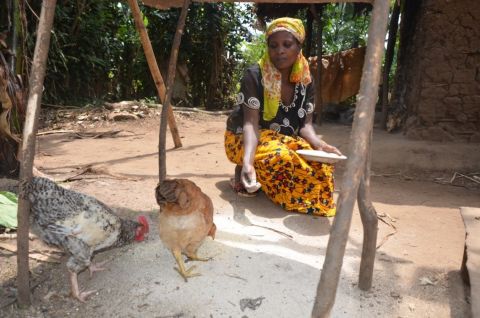 Charlotte says, "Having received assistance from World Vision, I am able to feed my children. With the maize flour I can make them porridge for breakfast which they like a lot. My children are also healthier today. This small livestock has been a miracle for my family and me. I am thankful that World Vision, my children can go to school now and have the chance for a better future."
The insecurity in the villages surrounding Busanza remains high due to the presence of armed groups creating trouble, causing displacement and insecurity. The problems are caused by different armed groups with threats of kidnapping even on aid workers. Base manager Christian Kasereka said World Vision staff continues to establish good relations with local communities and authorities and strictly follow security protocols.
The majority of the population in Busanza are farmers and the insecurity makes it difficult for them to access their fields, plant and harvest. This resulted in food insecurity with families having only one meal per day. World Vision's food vouchers and small livestock were timely addressing needs of the population. The project targeted seven villages including five in the Shinda health zone and two in the Nyarukwagara health zone. The need for further assistance remains high.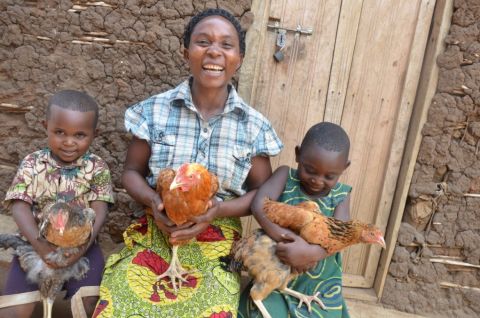 In addition to the food security project, World Vision did the construction of springs and rehabilitation of water supply, supported the total sanitation program managed by the communities, as well as the community network on child protection, intra-personal therapy groups of the students and building of latrines in schools. A teacher training and a literacy program were also implemented to boost the students' reading performance. An estimated 10,400 people are benefitting from these ongoing programs in the district.