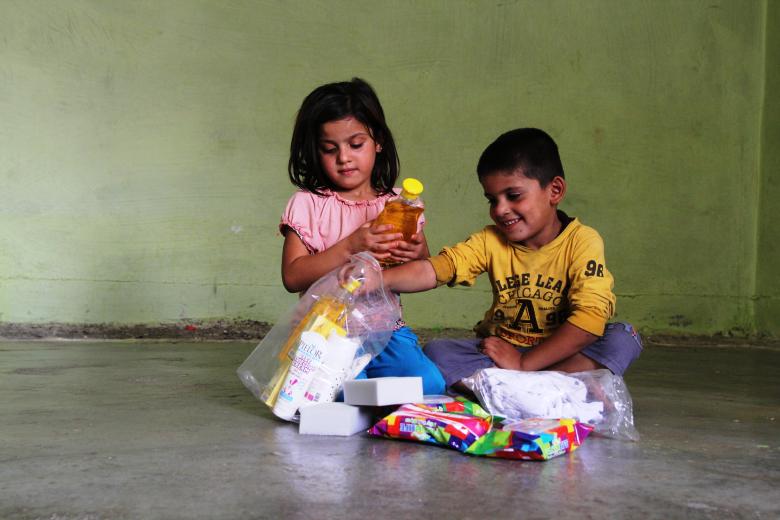 World Vision begins providing assistance to Syrian refugees in Turkey
Wednesday, October 28, 2015
In June 2015, Ahmad, and his twin sister Rasha, aged 6, fled Syria with their parents for the Turkish border town of Akcakale. They left behind a lovely duplex house, all of their belongings and the life they had always known. Ahmad describes how much he misses his red bike, the one he had just learned to ride without training wheels. Rasha, on the other hand, misses watching Sponge Bob Square Pants on TV in the morning while eating breakfast.  Ahmad interrupts "I prefer Tom & Jerry."
Since arriving in Turkey, the family has been living in basic accommodation and struggling to make ends meet.  Many other families are facing similar difficulties. In June 2015 alone, many thousands of Syrians fled to safety across the border into southern Turkey.
Rasha (left) misses watching Sponge Bob Square Pants on TV back in Syria and Ahmad (right) misses his red bike. Photo by Kinan Diab/World Vision
In July 2015, World Vision began partnering with Turkish NGO, International Middle East Peace Research (IMPR), in order to respond to some of the needs faced by recent refugee arrivals.
Kits for babies and young children containing diapers, baby powder, baby shampoo and wet wipes, among other items, were provided by World Vision to IMPR, whose team of volunteers and staff distributed them to vulnerable families, such as Ahmad and Rasha's.
Although Ahmad and Rasha are not babies, the items were very helpful for their family. Sadly, the children have been wetting the bed, a symptom of high-levels of stress and anxiety in their lives. Their mother was particularly grateful to receive diapers which can protect her young family and provide them with some dignity during this difficult time.