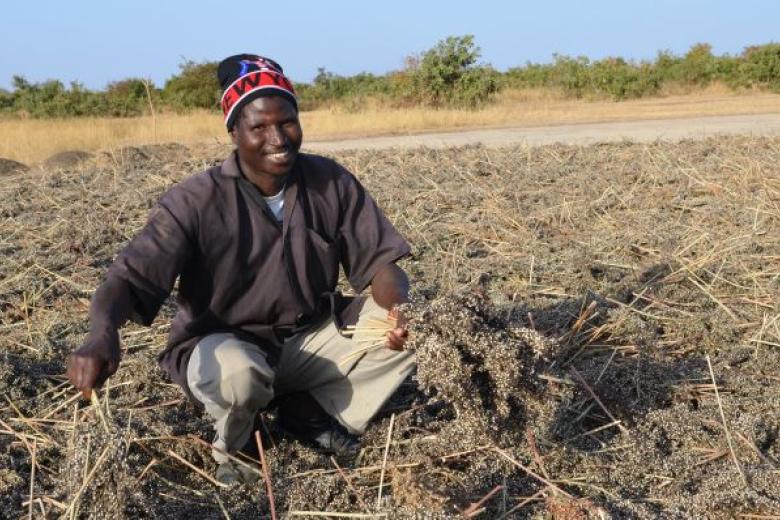 World Vision Commences Farmers' Early Warning Project for Rapid Action and Information System in Mali
Monday, April 4, 2016
On March 17th, 2016, at Hotel Salam of Bamako, World Vision Mali organized the opening ceremony of the Farmers' Early Warning Project for Rapid Action and Information System.
The ceremony was chaired by the National Director of World Vision, Chance Briggs, accompanied by Dr. Daouda Coulibaly, Operations Director, and several field project managers and partners. Other key stakeholders were at the ceremony such as partners from other World Vision International offices.
Founded by A. Margaret Cargill for 2 years period and designed by World Vision, the project will be made available to external users.
The system is managed by Malian farmers and designed for further applications worldwide.The target of the project is to develop and manage an early warning and informations system for farmers to safegaurd their crops and livestock.
Surveys have demonstrated that there is a need for relevant information to reach these parties in order for them to safegaurd not just their livehoods but sustenance.
The project will collect, analyze, disseminate information which will improvine, tremendously, the resilience of farmers' households.
Two cluster areas have been identified for the project: Kolokani in the Koulikoro regiona and Diéma in the Kayes region. This covers 6 development programs run by World Vision containing 160 villages with a total population of 200,000 inhabitants.
The early warning project will have the important task of providing vital information at each stage of the farming cycle and warning key parties when risks arise.
Daily, 10 day, monthly and seasonal weather forecasts as well as information on diseases and invasive species will be provided to the population. The price of agricultural inputs in the market will also be communicated to farmers (seeds, fuel, water, fertilizers, etc.).
Market prices of agricultural produce (crop, livestock farming) in addition to infrastructural stasuses (the conditions of roads, storage space) and services (costs, availability) will all be factored into the informations provided to the communities.
This tremendous assest will allow World Vision, through the early warning project, to built means of improved and elastic subsistence for small farmers.
The will allow improved the systems of agricultural management, systems inside and outside the farm in terms of management of natural resources of agriculture and the emergency impact and needs in terms of knowledge of agricultural situation.