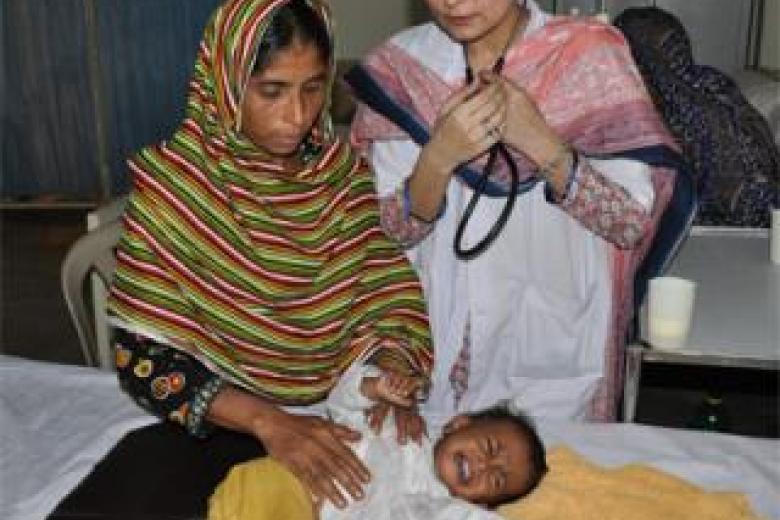 World Vision expands emergency response as needs increase in flood-ravaged Sindh
Friday, September 30, 2011
Access to affected families remains a massive obstacle in terms of providing assistance. As the water level eventually recedes, measures to prevent water-borne diseases will also become a priority, including hygiene promotion and the ability to purify water.

Jee Andi, a 70-year-old mother of nine from Roshanabad village in Badin says, "We are using the same water that is being drunk by animals." Due to the contaminated water, most of her children have suffered from gastroenteritis, diarrhoea and other skin diseases. Her nine-year-old grandson died as a result of a snake bite which occurred when they were living in the open, without any real protection. Their current shelter is not much better.

Due to the contaminated water, most of her children have suffered from gastroenteritis, diarrhoea and other skin iseasesWorld Vision plans to support 15,000 affected families in six districts* through the provision of food, non-food-items such as tents, kitchen sets and hygiene kits, water purification tablets, health care (including nutrition) and Child Friendly Spaces and Women and Infant Friendly Spaces.

While water is slowly drying in some areas of upper Sindh, it will likely take up to three months for mosquito-infested water to dry out in other, more severely affected areas, such as Badin district, where World Vision has provided 1,400 kits of essential emergency items including tents, kitchen sets, hygiene kits and mosquito nets benefiting around 9,800 people.

According to the latest UN joint assessment, five percent (or 270,000) of the affected households are headed by women; additionally, according to the UN children's agency, up to 2.5 million children in southern Pakistan have been affected by these floods.

With large areas of land still submerged by standing water, the National Disaster Management Authority (NDMA) of Pakistan reports that more than 1.5 million homes have been fully or partially destroyed, forcing many people to be uprooted from their homes, many of whom are being forced to seek temporary shelter. According to the NDMA, nearly 700,000 people have sought shelter in relief camps, but it is feared that many more are simply finding shelter along roadsides, river embankments and in whatever building they can find.

Forty-year-old Sahib Khatoon gave birth to her fifth child in a public school in Baghkhan Jatoi village, Sanghar in southern Sindh. "I was terrified - how could I give birth a baby without any medical assistance". Remarkably, her son was delivered safely with the help of a traditional birthing attendant. He will likely spend the first weeks, months and even years of his life in temporary shelter.

Recent assessments reveal child malnutrition was at emergency levels in Sindh even before the onset of recent flooding
Vast swathes of farmland have been inundated for a second consecutive year in the southern province of Sindh, the nation's breadbasket. According to the NDMA, around 2.1 million acres of agricultural land has also been affected by the rains and floods, with crops of cotton, rice, sugarcane and banana damaged or destroyed.

Recent assessments reveal child malnutrition was at emergency levels in Sindh even before the onset of recent flooding. With families unable to harvest swamped crops once again, children are in desperate need of nutritious food to help them survive this second disaster following last year's devastating flood crisis which affected 21 million country-wide.

World Vision's Stabilisation Center at Khairpur, one of the two worst affected districts in Sindh, is treating malnourished infants and children like four-year-old Mohsin who weighed a frightening 6.7 kilograms when he first visited the centre and wasn't able to support his own weight. Just 11 days after first receiving treatment, Mohsin gained almost a kilogram in weight and is slowly gaining strength.
"I thought that my child would never be able to walk by himself throughout his life but you treated my child like angels and saved his life", said Mohsin's 25-year-old mother Rukhsana.

In Khairpur district, World Vision is running three Child Protection Centres and two Child Friendly Spaces, with a third to be opened in the coming days. These centres aim to give children the opportunity to play, learn and interact with other children in a structured, safe environment, while their parents cope with the daily challenges of being displaced from their homes, work and routine.

Last year, in response to the devastating floods that swept the length of Pakistan covering an area the size of the UK, World Vision extended its operations from the north of the country and was one of the first aid agencies to reach many of Sindh's cut-off communities.

World Vision assisted 1.5 million people affected by last year's floods, providing food, shelter, healthcare, long-term livelihood assistance, and other interventions to people in Khyber Paktoonkhwa (KPK), Punjab and Sindh provinces.

The organisation is committed to not only responding to natural disasters such as the current flooding, but also to ensuring children are cared for and protected, enjoy good health and are educated for life.