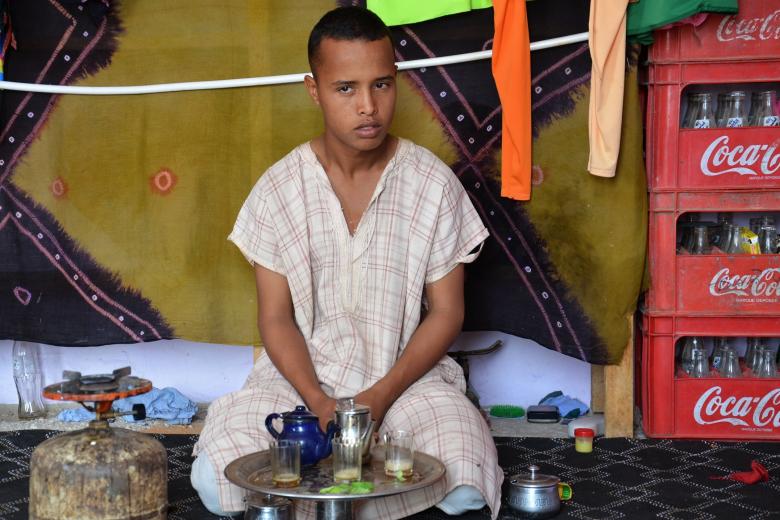 World Vision Mauritania Education Program Rescues Mohamed from Dropping Out
Sunday, February 22, 2015
Mohamed, 19 years old, was on the verge of dropping out of school when ZEINABOU MINT AHMED'S center of community development (CCD), "Ouad El Nour" (the Oasis of Light), supported by World Vision Mauritania, took him under their wing. With sponsorship from Oasis, Mohamed is now in his first month of training at the Gendarme camps in Rosso, on the Senegalo-Mauritanian Border.
In his mother's shop in Arafat, a poor suburb of Nouakchott, we find Mohamed, on break from his training, making some tea. The warm atmosphere, filled with smiles, masks the difficult socio-education course the young man is undertaking.
"He is among the children who benefited from an IT training in 2011, then from a three month vocational training at the college of computing, accounting; training which he paid himself. He graduated summa cum laude," Zeinabou Mint Ahmed, president of Ouad El Nour ", said proudly.
"We follow-up with their performance in school, contact their parents as well as headmasters and we ensure they have their legal documents on their civil status. In cases of dropouts we guide them in the direction they want to take, be it the furtherance of their formal education or other forms of education that guarantees them a means of livelihood," continued Cheikh Abdel Aghag, sponsorship coordinator at Arafat-2 field office.
"Now that I have a clear opportunity to be independent and eventually be able to support my mother, I have less weighing on my heart"
Thanks to this procedure, 40 dropouts, were reinstated in school and other vocational institutions. About 40 % of children in primary school, in the Arafat municipality of Nouakchott, dropout in their first or second year of school. Some of them, in particular girls, were reinstated thanks to income generating activites promoted by "Ouad El Nour" and supported by World Vision Mauritania. "From these income generating activities, some of these female dropouts were able to become hairdressers, and even electricians!" added Zeinabou Mint Ahmed.
"The training is hard, but we adapt. We are totally cut from our parents for 45 days. It is especially the lack of news about my mother which is most difficult for me," Mohamed said sadly, "and 42 kilometers of walking every day!" he addede, laughing.
"For lack of going to the school, and receiving a classic academic formation, every parent wants social and economic independence for their child. Mohamed found his way thanks to Oasis supported by World Vision and for that I am very grateful" asserts Houda, Mohamed's mother.
"If everything goes well, in 9 months I will be a gendarme trainee," Mohamed said enthusiastically. "Now that I have a clear opportunity to be independent and eventually be able to support my mother, I have less weighing on my heart," concludes the young man.