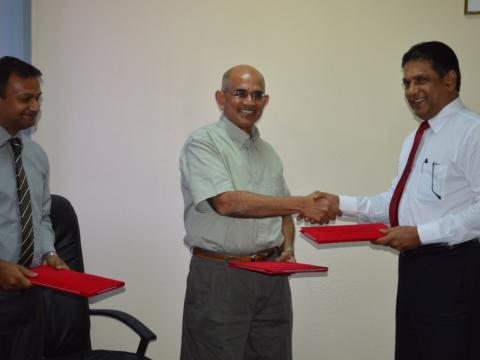 World Vision, Ministry of Education and Dialog partner to enhance education
Wednesday, November 19, 2014
World Vision Lanka recently signed a Memorandum of Understanding (MoU) with the Ministry of Education and Dialog Axiata PLC to promote education by supporting the expansion of the Nenasa  education channel. 
Nenasa is a gift from Dialog Axiata PLC (Dialog) to the Government of Sri Lanka and the Ministry of Education, allowing the Ministry to broadcast content based on or supporting the national education curriculum to every corner of the country. The network is managed and operated by the Ministry of Education with the support of Dialog Television. The two channels Nenasa 10 and Nenasa 11together comprise the current offering, focusing on key subjects in the Year 10 and Year 11 curricula, with more channels planned. As part of Dialog's support to the effort over the years televisions and satellite receiving units have been donated to the Ministry of Education for installation in 2,000 schools across every district in the island.
World Vision has agreed to partner with the Ministry  and Dialog by providing 250 television units free of charge to be installed in 250 schools located within World Vision's Area Development Programmes.  Some of these schools do not have adequate numbers of teachers and this facility will enable children in these areas to have access to much needed study assistance through the Nenasa network.
"Sri Lanka is a middle income country and our education system too should reflect that," said Anura Dissanayake, Secretary Ministry of Education. "We need partners to work with us towards this goal. We are happy to collaborate with World Vision once again and our fruitful partnership will enable us to improve our education system."
Education for life is a key area of focus in all 43 World Vision programmes spread throughout the country. Through this MoU World Vision will continue to support MoE endeavours, including projects undertaken via the provincial and zonal education departments.
Commenting on the partnership World Vision Lanka National Director Suresh Bartlett said, "We are pleased to strengthen our collaboration with the Ministry of Education for the wellbeing of children through this Public-Private Partnership. This will enable us to combine our knowledge and optimise our resources to further develop the education sector."
Dialog continues to work with the Ministry of Education on the 'Nenasa' distance learning programme in order to bridge the gap between the rural- urban digital divide in the education system.
Michael de Soyza, Head of Group Corporate Office at Dialog Axiata PLC said: "Nenasa constitutes a seven year journey for Dialog, which has been a very rewarding experience for both the organisation and practitioners alike as we witness the transformation and empowerment it delivers to children all over the island.  We are happy to see one of the largest NGOs supporting this venture. We look forward to expanding this collaboration further.
 The goal of World Vision's education sector is to educate children for life. In achieving this, World Vision works through 43 Area Development Programmes by focusing on Early Childhood Care and Development, in play schools and pre-school, followed up by supporting primary and secondary education which includes special education, development of life skills, entrepreneurial skills and vocational training and education for school dropouts and children living in vulnerable contexts.