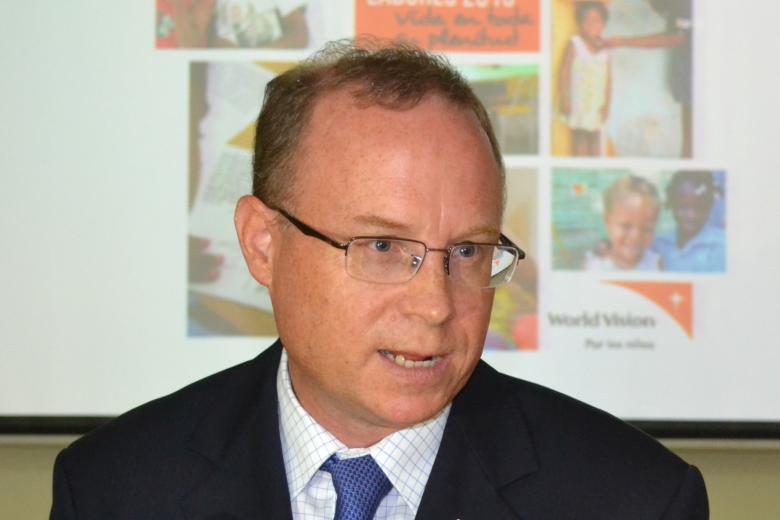 World Vision presents the results of their work in the Dominican Republic during 2015
Wednesday, February 3, 2016
Santo Domingo, January 26, 2016.- World Vision presented on Tuesday its labor report for 2015, which states that more than 33,000 children benefit directly from their programs in different regions of the country .
During its fiscal 2015 year, the Christian organization has invested more than RD$350 million (US$8,014,925) in programs and projects to promote the protection of children against all forms of abuse and violence and to promote a better quality of education, health and nutrition in vulnerable populations.
David Coates, World Vision country director, said it is the organization's priority to raise awareness in the whole society so people assume tender parenting patterns, as the national average for children who have been disciplined by violent means is 63% (Enhogar-2014), a figure that rises to 80% and more in some vulnerable areas where the NGO works.
He explained that during 2015, a total of 8,397 children and adolescents participated in clubs or groups where they learned about their rights and duties and participated in activities to promote leadership, during which they are oriented on their right to be protected from all forms of violence; while at least 10,000 people signed a pact for adult non-violence against children as part of the Violence-Free State that promotes the organization in the 14 countries of Latin America where this campaign is being rolled out. These signatures were delivered to the National Congress, in a symbolic act to legislate in favor of the criminalization of physical punishment.
Coates took the opportunity to call on all institutions of the National System of Protection of Children and Adolescents to implement the 2015-2018 National Road Map for the Prevention and Elimination of Violence against Children and Adolescents in Dominican Republic.
In the field of health and nutrition, World Vision works with a network of 550 volunteers, mostly women, who guide families to prevent malnutrition in children aged 0-5 years, and enables them to prepare nutritious food products that grow where they live.
Coates gave details of the results achieved by World Vision in 2015, in a meeting with partners, collaborators and associates, at the organization's headquarters. The welcoming remarks were delivered by businesswoman Marion Pages, new president of the Advisory Council forWorld Vision partnership in the Dominican Republic.
Both Coates and Pages stressed that the work done by World Vision in the country is done through agreements and supported by public and private organizations, as well as other NGOs and international cooperation. They appreciated the support of all partners and domestic and foreign partners, and representatives of the more than 300 communities where the organization works directly, in the provinces of Santo Domingo, Bahoruco, Independencia, San Cristobal, Barahona, Dajabon and El Seibo.