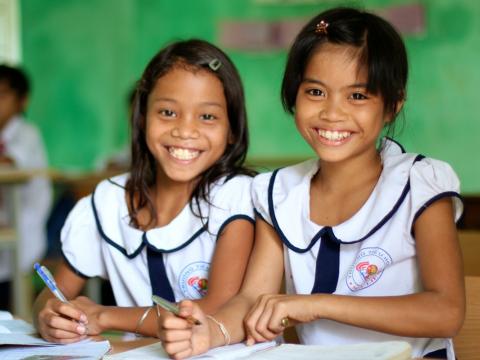 10 Amazing Girls Who are Changing Their Communities
Friday, October 10, 2014
Challenging tradition. 
Leading change.
Fighting for a better world.

That's what girls across Asia are doing.

In the societies they come from, men have made the rules. Women have often faced violence, marginalization and discrimination. In the worst cases, the birth of a baby girl has been a major disappointment – a boy preferred.

But these girls have had enough. They're demanding change.

These young woman that we work are proving girls are capable of everything – and then some. They continually inspires us – not just on the International Day of the Girl Child, but around the year.

Across Asia, there are 656,292 girls in 13 countries that we're working with. And we couldn't be more proud of how they're contributing to their communities.
While there are countless examples of extraordinary girls across Asia, we wanted to introduce you to 10 of favourites.
Bangladesh – A Girl Who Stops Child Marriages
When news spreads that a girl is about to get married, 10-year-old Sanjida and her friends spring into action. Together, this gang of youngsters are stopping child marriages and keeping more girls in school.
How does she do it?
Philippines – The Girl Who Disaster Proofs Communities
Fourteen-year-old Lyka has seen enough flooding to last her a lifetime. She's also knows firsthand the destruction a typhoon can bring. To change this, Lyka is urging young people and her local government to take preventative action.
Find out what she's doing
China – A Girl, A Ukulele and A Big Change
What's a ukulele got to do with a girl's day? For 11-year-old Xioamin, the ukulele has been a tool for transformation. She's learned to lead other children and get her own groove back after moving from her rural home to an industrial centre.
Follow her journey
Sri Lanka – A Computer Whiz Who Has Never Been to School
You can't keep Midula back. Born with a crooked spine, Midula couldn't sit until she got a life-changing operation and became mobilized, with the help of a wheelchair. Fast-forward ten years, and now Midula is a leader among children in her community.
Find out how she became a computer expert
Nepal – The 11-Year-Old Who Shifts Men's Perceptions of Women
Radhika is doing what most women don't dare. She's talking to men in her community about gender equality. She's demanding equal treatment for girls in school.
Learn about the results of her work
Cambodia – The Little Teacher
Eleven-year-old Vongsa is determined. No child should fail in her school. To ensure all children in her village have the opportunity to learn and understand their school lessons, Vongsa holds evening classes.
How many children has she helped?
India – A Girls' Gang Fighting Discrimination and Harassment
A 2010 study reveals that 2 out of every 3 women in New Delhi, India have been harassed in the streets in the past year. For a group of girls living in the city's slums, the crime forced them into action.
Find out how they are protecting themselves
Myanmar – Failure Leads to a Girl's Desire to Transform her Village
After 15-year-old Pan failed her Grade 10 year-end exams, she knew something had to change. She launched an appeal to her local government. Keep the lights on, give us a study space, she demanded.
Find out how the government responded
Mongolia – The Environmentalist Cleaning Up Her Community
Sixteen-year-old Batchimeg is a local environmental activist, leading her fellow students on projects to clean-up their school and educating people about the importance of a green community. Find out what inspired her into action

Indonesia – Friends Who Change Government Practices
At 14 and 15 years old, friends Silvi and Yuyun are convincing their local government to ensure children are included in the decisions they make. Learn about the special initiatives they led