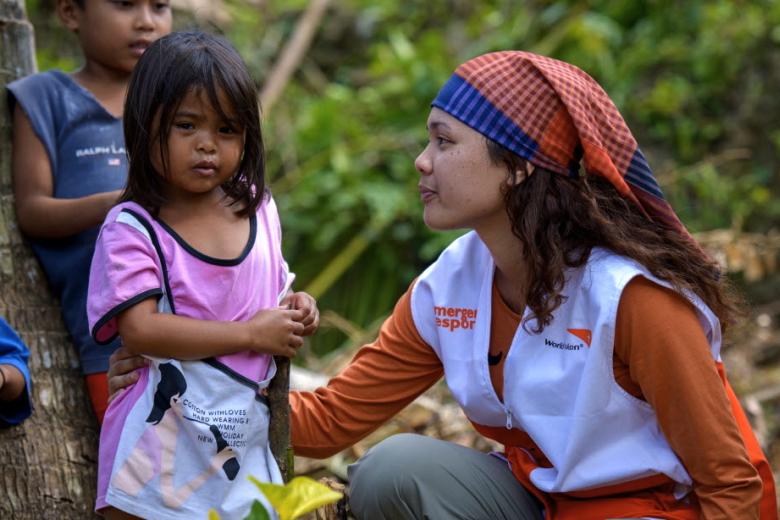 10 amazing humanitarians you need to meet
Monday, August 18, 2014
Ever think about working in development? Or what it would be like to respond to a natural disaster?

On 19 August, the international community celebrates World Humanitarian Day – a time to recognize the work of people who serve their communities or are called upon when disasters hit. It's also a chance to get an insight into what it's like to work in development or emergency work.

During the last month, we've met dozens of incredible people who feel called to help. Each person has made sacrifices to serve.

Today, we share 10 inspiring stories about humanitarians working across Asia.
1.  Philippines - An emergency responder who searches for her own family in the wreckage of a super typhoon


To serve those affected by a devastating earthquake, World Vision staffer Grace Baloro left her children behind. But when a typhoon struck her hometown, she was forced to return home and search for her loved ones amidst the wreckage. Find out what happened
2.  Nepal – A fresh graduate who defies cultural taboos to help women deliver safely
When 25-year-old Yohoshu Ghising graduated and joined a child health team, he never imagined he'd have to put into practice what he preached. But that's exactly what he had to do recently when he encountered a women on the side of the road giving birth. What happened?
3. Laos – A boat driver with a heart of gold
World Vision staff member Lith Bounphasith ferries chickens and goats to remote villages, inaccessible by road. Often, he finds himself acting as a floating ambulance – carrying the sick in his motorized canoe to the nearest health centre. Find out how he became a World Vision boat driver
4.  Indonesia – An education enthusiast who fights for children's right to learn

A child rights advocate is determined to bring education to marginalized children in remote areas of her own country. After many years of fighting for the rights of migrant workers, and, later, helping communities build back their homes after the 2004 tsunami, Frida turned her focus on children and their education. Learn more about what she is doing

5.  Mongolia – A tailor who sews inspiration to hundreds of young women
After sewing in a rented corner of a basement, Myagmar Yanjmaa had a breakthrough. She learned how to grow her business after attending a World Vision session and built one of Mongolia's strongest sewing associations – training more than 100 students and providing more than 900 with jobs. Her success story!

6.  India – A community worker who fights the jungle to reach remote villages

Everyday, Kherring hops on his motorcycle with a shovel and ax to reach the communities he works in. Once there, he works to bring positive change to 300 children in some of India's hardest to reach villages. What it's like to work there

7.  Myanmar – An emergency responder who works on the frontlines
When there's a flood, and there are plenty of them in Myanmar, Moe Thu is the one to call. He's worked on emergency response teams in some of the country's worst flooding in recent history, providing relief items to those who have lost everything. Learn about his experience as an emergency responder

8.  Thailand – A breakfast champion who started with just a dream
In northeastern Thailand, Sittichai Ruencharoen founded a pre-school after he realized children in his community weren't eating nutritious meals. Every morning, this former school teacher wakes up at the crack of dawn and cooks for 30 of his biggest fans and critics – children under the age of 5.
Learn about what led him into the kitchen
9.  Sri Lanka – An emergency responder takes a moment to reflect
Working in the civil conflict in her home country, and then travelling to India to work in a massive flood, and, recently, responding to the devastation left behind by a super Typhoon in the Philippines, Hasanthi Jayamaha
takes a moment to reflect
.
10.  Cambodia – A school director who is motivating a generation to dream big
Every day, educator Samnang Chea inspires nearly 1,000 children to do their best. In his role as school director, he creates a space that compels students to thrive. Find out why his school stands out.