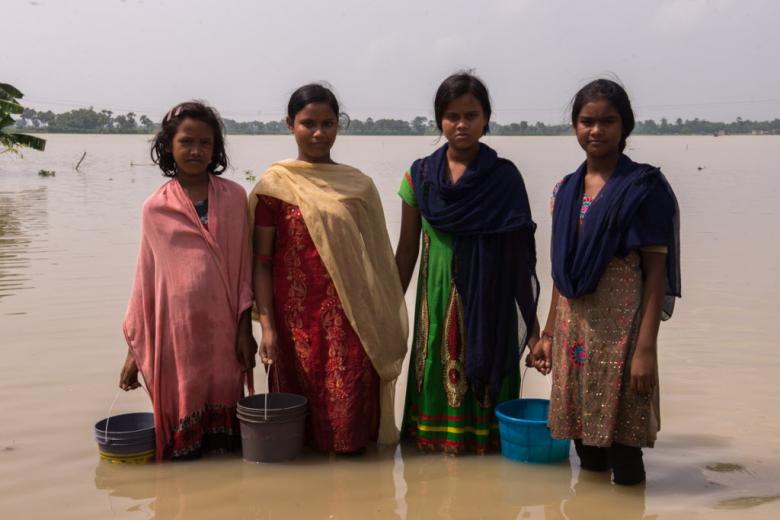 5 Reasons: Why you should care about India's floods
Tuesday, August 11, 2015
by Joan Nirupa
World Vision India Communication Officer

1) 10 Million people in 5 States Affected
In one of the worst floods in recent times, over 178 people have died and 10 million people affected across five states of India from the west to the east. In just one state of West Bengal, 13,200 villages have been affected, with over 400,000 houses damaged.
2) 400,000 children are going to be homeless
Of the millions affected, a large number of them are children. With over 400,000 houses damaged or completely destroyed, children do not have a safe place to stay. Many families are living in makeshift tents along railway lines and other higher ground. School are being used as relief camps. This has affected children's education. 
3) Thousands of farmers are going to be caught in debt
In the state of West Bengal alone, crops over 797,848 hectares have been damaged. This would mean huge loss to farmers and the local economy. Many farmers who had borrowed money to plant crops might not be able to pay back their loans. This could lead to a cycle of debt for the family, which they would struggle to repay for years to come.
4) Children's education affected - In almost all of the flood affected areas, government schools are being used as temporary relief camps. And thousands of children have lost their books and notebooks to the floods, affecting the education of thousands of children, many of whom might drop-out of school. 
5) Government infrastructure worth thousands of dollars has been affected by the floods. Rebuilding will require a lot of time and resources of the state Governments.
The most important reason why you should care about this is - You can make a difference.
World Vision India has begun immediate relief by distributing food to affected families. We are planning to assist 100,000 people with immediate relief and long-term support in the form of shelter and livelihood assistance. Our staff are continuing to assess affected areas to help children and families.
You can help children and families on this road to recovery!