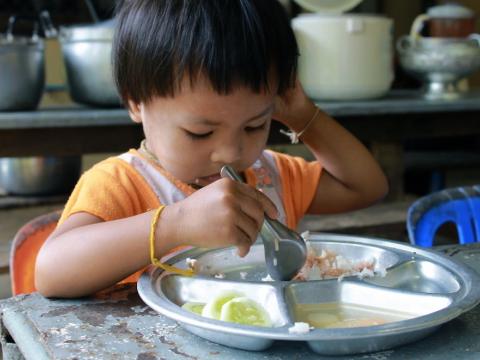 Breakfasts for Better Days

Wednesday, August 13, 2014
by Paiwan Benjakul, World Vision Thailand
The start of a brand new day paints a lovely picture. The sun appears and casts a golden colour across the horizon. 
Birds sing so sweet and pure. 
Fresh, clean air fills our lungs and makes us so alive. 

Healthy children feel energetic and lively because of the good breakfast that they are about to receive.
However, today the responsibilities that bind many people make a 'new morning' the beginning of a very hectic day.  Not even small rural areas in Thailand are exempt. The beauty of a new morning is disregarded, and breakfast, the most important meal, is also neglected.
"Parents have to go out and farm and they have no time to prepare breakfast. They give whatever food there is for the children to eat," explains Mr. Sittichai Ruencharoen, the head of an early childhood development centre in eastern Thailand.
Often, the 'whatever' is an unhealthy option – food that offers no nutritional value for a child. But Sittichai is determined to change that. This is his community, the place he was born, the spot he spent his childhood – and he feels compelled to act. 
AN IDEA DEVELOPS
After he finished his education, Sittichai became a teacher and left his hometown. One day during a break from teaching, he walked over to a nearby temple and saw children drinking donated milk. A thought cropped up in his mind. Maybe children in his hometown could have the same opportunity – maybe they could have healthy food too.
"When children are healthy, good development follows," explains Sittichai.
Sittichai's aspiration increased when two other communities near his hometown set up child development centres.
CREATING A CHILD CENTRE
Sittichai decided to leave his teaching job and return to his village. He opened a child development centre even though he did not yet have support.
"I have tried to do everything ever since the centre was set up in 1999. I soaked soya beans in water and crushed them to make soya bean milk for the children to drink. I could not do anything much because I did not have a lot of funds. Even though I have done everything that I possibly could, it's as if there was not much difference," Sittichai says.
PARTNERS FOR A HEALTHY BREAKFAST
In May 2011, World Vision partnered with Sittichai to provide breakfast for children at his child development centre and the two other nearby centres in northeast Thailand. Since then, every day at 8 am, children start arriving.
Today, a mouthwatering smell drifts through the air. Hmmm, this must be fried rice with pork that comes together with clear pork spare ribs soup with green squash. 
On other days the smell of fried chicken permeates. Hard-boiled eggs are cooked in gravy and are sweet and mouth watering. The eggs come from a nearby school, where a child agriculture project is supported by the Thai Royal Family's Sirinthorn project.
"While the children are eating, I will go and encourage and tease them.  Sometimes I will ask if there is anyone who has eaten everything today.  And the child will say, 'Me' and he will show me the tray," Sittichai describes.
A CHANGE IN CHILDREN
"New children who first came here were underdeveloped.  However, after staying at the centre for a year, they all passed the (health) standard," Sittichai smiles proudly.
Each year this development centre provides food for 50 to 54 children aged 3 to 5 years.  Since this centre was established, more than 100 children have benefited.
"Everything is improving.  We have advanced from back to front.  Because of World Vision's engagement in this project, the children's health has certainly improved," Sittichai says.