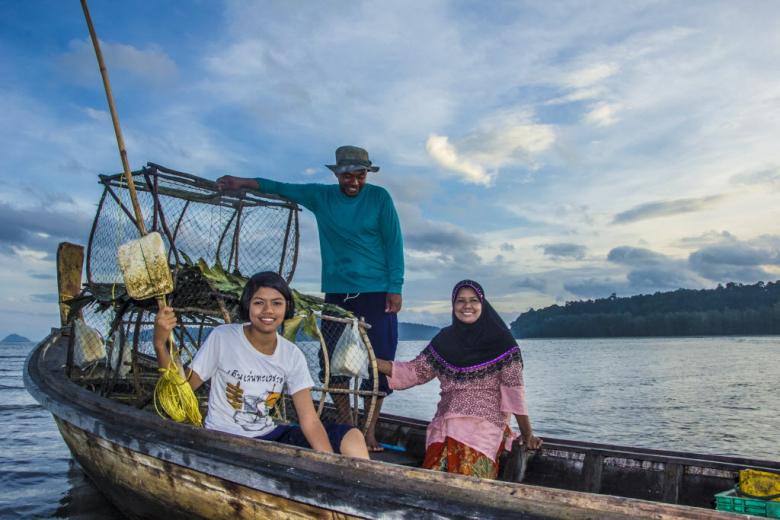 A day in the life of Andayaa: Staying afloat 10 years after tsunami
Tuesday, December 23, 2014
Story Paiwan Benjakul, Photos Jay Mark Mijares - World Vision Thailand Communications
Andayaa was only 2 years old when her mother jumped out of the window holding her tightly to escape the deadly waves that chased them up to the hills.
When the uproar settled, the sight was devastating. The seawater claimed lives and properties. It left them with a severely damaged home and ripped them off their only means of livelihood: fishing. Shards of her father's fishing boat lay in heaps of broken fragments, debris, mangled toys, and lifeless bodies.
Andayaa's family lives in a small village along the Andaman coast in Kapur– one among the many areas destroyed by the tsunami. Her father is a local fisherman while her mother works in the family's fruits and vegetable orchard. Andayaa is the youngest in the family.
GETTING A HAND UP TO RECOVER
The fatal disaster brought Andayaa's family to the World Vision tsunami recovery project. They were provided relief aid. The project also helped rebuild their community and her father received a new fishing boat that enabled him to earn a living once again.
In 2008, World Vision established a programme area in Kapur district in order to continue the initial projects of World Vision global response. Through World Vision's work, Andayaa's mother was trained how to make fermented fertilizer for their orchard. This reduced their production cost, cutting their dependence on chemical fertilizers.
Andayaa has participated in the World Vision child sponsorship programme since she was in kindergarten. She also had the opportunity to participate in camps. Among her favorite is the Thai camp because she loves to study the language. She has a 4.0 grade point average (GPA) in Thai. Her dream of becoming a Thai teacher grew when she was chosen to represent her school in a Thai handwriting competition. Andayaa, now 12, is in Grade 6.