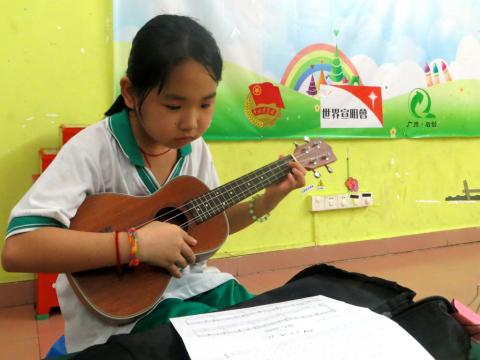 Follower to Leader
Wednesday, October 1, 2014
By Chen Chuyu, World Vision China, Communications

Like so many Chinese families from the countryside, Xioamin's left their rural home and headed for the city. There were better jobs to be found, her parents believed. And so, at 11, Xioamin left the world she knew and arrived in the city of Guangzhou.

Here, her parents and took up residence in a place where thousands of clothes-making factories employ migrant workers from all over China.
ADAPTING TO A DAUNTING PLACE

Completely new to the place, Xioamin was daunted by the city's narrow lanes, the rushing motorcycles and noisy crowds where many dialects are spoken.

Like many migrant children, Xiaomin was also faced with a set of urban challenges.

Money was always a problem for migrant families and her parents' jobs were not stable. Education is not guaranteed as migrant populations are not entitled to the same rights as local residents. Her parents, busy in the factory, had little time to take care of her. She often felt lonely and bored.
FINDING A NEST

At first, Xiaomin had nowhere to go until she learned about "Little Swallow" Activity Center from an elder sister, 15-year-old Xiaojie, who was a member at that time.

"Little Swallow" was established in 2011 by World Vision, Guangzhou Haizhu District Youth League Committee and Qichuang Social Development Society.

It provides migrant children with a safe place to study and play. Many interest-based classes and trainings are offered. All services are free. Until August 2014, services provided at the center reached 70,000 children.

OVERCOMING HER FEARS
At the beginning, Xiaomin clung to her fears. Ms. Fung, a teacher at the Center, witnessed Xiaomin's growth from shyness and avoidance to responsibility and leadership over the past year.
"She was very nervous in an unfamiliar environment. Because her elder sister had many friends, she would closely follow her sister, just like a chick following its mother," Ms. Fung says.

GROWING TO BECOME A LEADER

In order to give her more opportunities to make friends, staff at the Center encouraged Xiaomin to participate the ukulele class offered by volunteers.

During the first semester, even though Xiaomin started to take part in practices on her own.

When it came to the second semester, Xiaomin was not only a student, but had one more role, to act as a teacher.

DIRECTING A MUSIC GROUP

She leads practice sessions and in the process has built a sense of responsibility and leadership.

"In the second semester, she was no longer a 'little chick,' but a 'hen' taking care of others," said Ms. Fung, who could not help but smile.

On the eve of Children's Day, everybody in the ukulele class was busy with practices because they would give a performance in the community. Holding a ukulele and sitting straight on the stool, Xiaomin played the song "Two Tigers," while other students were gathering around her, learning by observing. Later, they practiced together and gave each other advices on how to improve. They promised to try their best to stage a simple but sincere show.

FROM PERFORMING TO OTHER DUTIES

Besides acting as "little teacher," Xiaomin also takes part in other activities, like "little volunteer" that involves duties of library management. When it's Xiaomin's turn, she makes sure that all the windows are properly locked and all books are put to the right place.

Xiaomin is still a quiet girl but her actions speak for her changes.

"Xiaomin devoted lots of efforts when teaching ukulele and she cares for new members in the Center," says Ms. Fung.