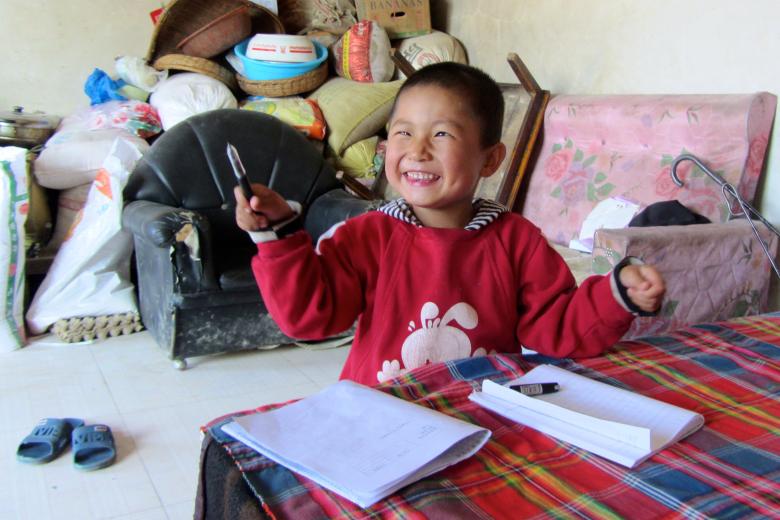 Hope for Tongtong in rural China
Thursday, April 9, 2015
"I hope she can take care of herself when she grows up," says Tongtong's mother.
Tongtong, 7, is a happy child who always grins. She was born in 2007 in a poor rural family in Jingyuan county, Gansu province. Her family has six people, her parents, two elder sisters, her grandmother, and her. Her father works away to earn income, while her mother takes of the family.
Her physical and cognitive development was significantly slower than other same-age children. She couldn't crawl when she was one, and she couldn't speak when she was three. Her mother took her to several hospitals and the consensus was that she has cerebral palsy. Such a result was a thunderbolt for a poor rural family. Due to financial difficulties, Tongtong's parents couldn't afford the treatment and didn't know how to take care of her.
In 2010, World Vision worked with Jingyuan County Disabled Persons Federation and organised a rehabilitation training centre for children with disabilities.
Tongtong's mother learned about this training by accident and she brought Tongtong to the rehabilitation centre to try their luck. Before the training, Tongtong couldn't stand up, or crawl in a typical way, or speak. She could only understand simple words and gestures. She couldn't express herself.
From then on, Tongtong's mother took her to the centre from Monday to Friday. Later, to save transportation cost, they even stayed in the centre during weekends. After three months of training, Tongtong finally learned to crawl by herself. This achievement brought great happiness to Tongtong's mother. She finally saw a glimmer of hope.
When the centre was on holiday, Tongtong and her mother returned home.
Tongtong's mother continued training exercises for her by following what she learned from the teachers. Though she was busy with house duties and farm work, she set apart one to two hours every day for training. The demanding exercises caused sweat to stream down their backs.
"Things are getting better. This is the hope we have been expecting. No matter how difficult, I won't give up!" says Tongtong's mother.
After the holiday, they returned to school and the teacher gave positive feedback on Tongtong's progress.
"Her training results are the most evident among all children," said the teacher.
With the collective effort by her and teachers, Tongtong can eat meals by herself, walk while supporting herselt by a wall, and utter words like father and mother.
"I have never imagined that she would say 'mother' to me one day!" says Tongtong's mother, who couldn't help crying when hearing her daughter utter the word.
In order to solidify the training effect, World Vision initiated a family-based social service system, which involves a series of barrier-free projects, such as renovating accessibility ramps, installing handrails and more.
Due to economic and environmental limitations, many parents in the community feel helpless, just like Tongtong's case. However, as long as the society, parents and children join hands in faith and perseverance, there is always a glimmer of hope for children in difficulties.
By Wang Yanru, World Vision Jingyuan ADP,  World Vision China