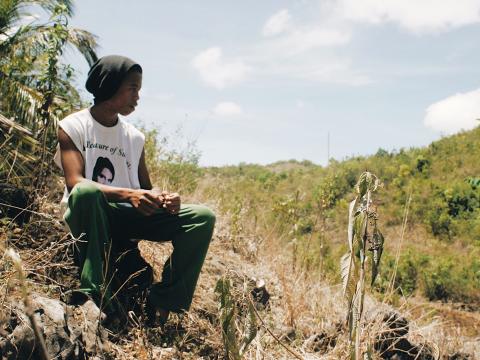 How sponsorship saved a boy from child labour
Tuesday, June 2, 2015
Story and photos by Mong Jimenez, World Vision Philippines Communications
Being a developing country, the Philippines has never been an oasis for many poor Filipino children. Poverty, that seems to elude any development programs, continues to claw at many families. Having less than three meals a day, living in poor dwelling conditions, families not earning enough income, lacking good education for their children- many poor families opt to do abnormal things just to survive.

Sadly, some of these families allow their children, or even force them, to do labourious work to help earn income.

Child labour is an outcrop of poverty.

In the Philippines, you can find children engaged in jobs almost everywhere. Based on a 2011 study from the International Labour Organization, 3.2 million of Filipino children ages from five to 18 years old are considered "child labourers."

This issue violates many child rights.
It has also caused many harmful effects to child workers – like children working in coal mines who become vulnerable to lung diseases or child street vendors facing the danger of road accidents.
I couldn't bear to see my siblings eat dried fish almost every day but it was harder for me to see them eat nothing at all.
"Child labour is driven by a complex set of factors primarily by poverty, lack of access to education, cultural acceptance of children working and others," shares Kathrine Yee, the advocacy manager of World Vision Philippines. "The effects of child labour to children include jeopardized health and development. Most of them will not be able to finish school which will lead to low or no opportunity for a higher paying job that will keep them in bondage with poverty."

World Vision fights child labour

As a child-focused organization, World Vision takes an active role in combating child labour. The organisation even established a special project to solely eradicate child labour among communities where such issues are common.

Aside from the special project, World Vision also helps reduce child labour cases through community-based and sustainable developmental programs through child sponsorship.

Meet Janlinon, or Jan. He is a 16-year-old taking part in a World Vision programme area through sponsorship.

Jan lives in a far-flung mountainous village in a rural community in the northern part of Cebu province. His house, which is made of light wooden materials, is surrounded with sugarcane and corn plantations.

Jan is the second child among five children. Jan's father, Julito, 45 years old, works as a farm labourer during harvest and planting seasons, which lasts just 6 months each year. For the remaining months, he seeks work in construction which provides unstable and insufficient income. Jan's mother, Lindsay, 39 years old, is a housewife and a part-time laundry worker.

Jan's life was very challenging but it was more difficult for him to witness the condition of his family. "I couldn't bear to see my siblings eat dried fish almost every day but it was harder for me to see them eat nothing at all," Jan shared.
The wounds in his hands have already closed and he has no plans to open them again.
Being a caring son and brother, Jan knew that he must do something to help his parents earn income.

Before World Vision fully established its program in Jan's community, he was exposed to child labour. He used to help his father toil on hectares of sugarcane plantations near their house.

Jan still remembers the agony from the first time he helped harvest sugarcane plants.

"I was around 10 years old when I first worked as a farm labourer. I was with my friends and we enjoyed the work during the first few hectares. Eventually, my body grew tired, especially my arms. My palms started to bleed because of my strong grip on the padding (tool used to cut sugarcane). The sun was also very hot during that day. I almost lost consciousness," Jan explicitly shared with a hint of grimace on his face.
Jan would earn just P70 (about USD $2) a day by working for almost 6-8 hours in a sun-exposed field.
"We would receive our salary every week. Each time I received mine, I gave it to my parents to help in our expenses. It made me happy seeing my siblings enjoy a different meal other than dried fish during our dinner," said Jan.
He would work for 2 straight weeks every summer.
After years of work in the northern Cebu communities, World Vision's intervention started to bear fruit. Jan was supported with his education. From the provision of tangible objects such as school supplies and facilities to intangible things such as developing the attitude of being an achiever and being studious, the organization strengthen the hope of Jan to pursue his dream. Jan could finally stop doing farm labour and focus on his studies.
"I've always wanted to become a teacher. It is my way to raise my family from poverty and I can also help other children in their education. World Vision gives me hope. Now, that I am closer to my dream, I will continue to work hard. I will not waste my education by working back to the plantations," said Jan with a firm and motivated voice.
Through the sponsorship programme, World Vision also provided opportunities to Jan's parents. Jan's mother is involved in a community savings group where she can save and earn additional income. Jan's father has been spending his unfilled time in taking care of livestock animals for their small livelihood business.
Right now, Jan can't remember the last time he used his padding for harvesting work. He has also forgotten the feeling to be exposed in the sun for hours. The wounds in his hands have already closed and he has no plans to open them again.