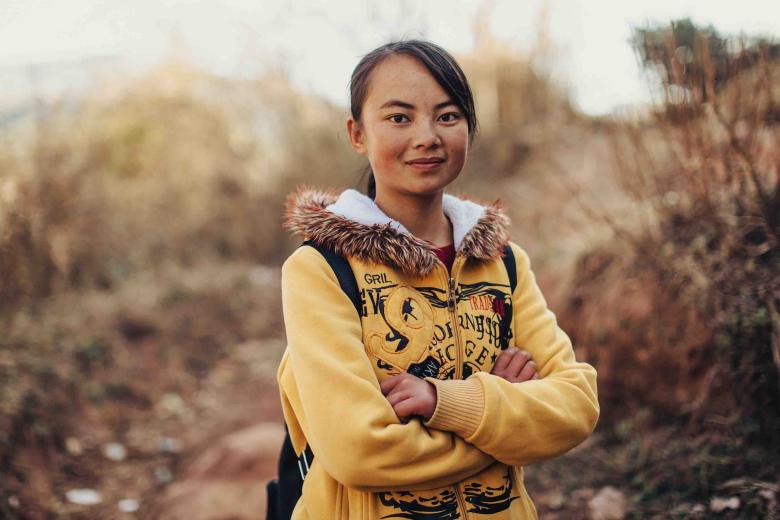 Child Sponsorship transforms Huanzhou Township , Wuding County in China
Tuesday, February 19, 2019
Twice a week, Zhu, 16, walks three hours across a mountain pass, through streams and over rocks to create a better future for herself and her remote ethnic minority community.
It's 3.06pm in Huanzhou Township in China's Wuding County and World Vision sponsored child Zhu is about to head home after a week of school. She is one of a small group of students that makes the arduous journey, and she has done so twice a week for nine years. For Zhu, the three-hour-trek means the difference between working in the fields like her parents or one day becoming a teacher. "I want to go out and see the bigger world," she says.
Zhu's home village cannot offer its children much in the way of education, wealth or opportunity, so these mountain treks are the price they must pay for their schooling. Zhu first made the trip when she started school nine years ago, and has been making it most weeks since then. On a mild, sunny afternoon it looks idyllic, but there hasn't been a mountain yet whose weather is always willing to meet walkers' wishes. And so through the dark, through rain, heat or snow, over slippery, unfenced paths by a deep reservoir, Zhu and her friends make their way home from Huanzhou boarding school.

"The first time I walked along this path, I was so scared that I cried almost the entire time," says Zhu.
"So did the other kids who walked with me. I was scared because there was no one around and it was getting dark. I wanted to be home and see my parents. I cried but didn't stop walking, because you would never reach home if you stopped."
When World Vision partnered with Zhu's community and started the Child Sponsorship programme in 2012, community leaders told World Vision that making the track safer was one of the most critical needs. They overhauled the track for children just like Zhu.

Choices for children are limited in a county where the average disposable income is US$4 a day and, due to the dependency on farming, very unstable. Natural disasters are rife. This is a "large ethnic minority population in remote mountains and in deep poverty," says World Vision programme officer Yan. "Because of its location on the earthquake zone, drought and flood can exist at the same time." Zhu, who has been sponsored by Amy from Hong Kong since the beginning of her sponsorship, understands a life outside the family farm starts with an education. She starts high school in September, after she finishes her ninth grade and her focus is currently on her high school entrance exams.
In 1995 an earthquake struck Wuding, and what started as a disaster relief program turned into a long-term partnership between the community and World Vision, which is designed to build strong communities for one purpose: for children, so children like Zhu can grow up strong and poverty-free. World Vision's unique approach is that it works from the inside out by starting with the child themselves, but also from the outside in by strengthening in the community so all children benefits. For every child sponsored, at least four others directly benefit. Together, they have focused on water and sanitation; preparing for the floods, droughts and earthquakes that are common in the region; added classrooms to the school where Zhu attends, undertaken health initiatives, built a cultural recreation centre for children to play at and have run a series of child protection programs focused on placing greater value on children and embracing their opinions and ideas.
Zhu never had books to read at home. "Many families cannot afford their children's education, especially at high school stage," says Yan. Zhu and her friends didn't have a safe place to play, either, but according to her father, adults in the village never considered that a priority. They believed if a child wasn't studying, then they should be working, not playing ("They thought their children did not need protection," recalls Yan). But Zhu's father says that sentiment has shifted with parents understanding how important play is for children, and seeing the outcome as children now have facilities where they can play safely.
The culture and recreation center was also where Zhu had her first ever, big birthday celebration, part of a group birthday party organized by World Vision staff. "This is the first time I have ever celebrated [a] birthday like this," said Zhu. "I have never seen a birthday cake like this."
Zhu's father has watched his daughter flourish since she became a sponsored child in 2012, and says she has become less introverted, more confident, and developed a lifelong reading habit. She also learned to play basketball at the culture and recreation centre and Zhu has developed a passion for the sport – one she's determined to play as well as any boy.
Zhu's dad has attended a number of the parenting workshops as a result of the community partnership to learn more about raising children – including their rights – skills he says have helped him build a great relationship with his daughter.

"Many villagers never really knew how to raise their children, nor did I. After World Vision came to this village, I attended many workshops where I learned about child protection and parenting. I make friends with my daughter, our relationship is different from that between most parents and children in my village."
The love and support Zhu has from her father are what World Vision staff want all the children in the county to feel. "As a child's mother, I always compare a child to my own when I see one," said a local staff member. "They are the same children, but how come their living environment differs so much [to my own]? This motivates me to pay attention to the vulnerable children and help them. This is probably the biggest force that motivates me to do my work. After spending time with these children, our emotional ties make me want to help them even more. Although children live in different environment, we hope to bring them something different; we hope that they can feel the love and goodness of the world." And thanks to World Vision Child Sponsorship and her sponsor Amy, Zhu will.
-ends-