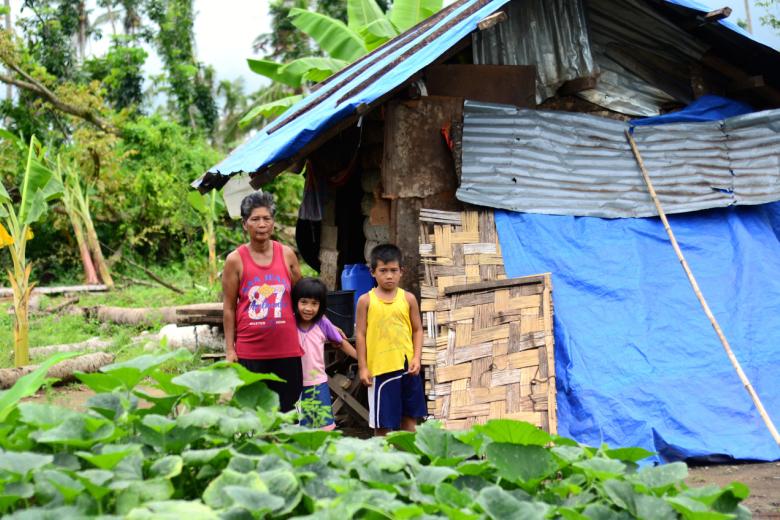 A mother's persistence: What Haiyan cannot break
Tuesday, November 4, 2014
"If I didn't qualify for the shelter package with tools and construction assistance, I would have rebuilt our house on my own finding a way with whatever meager resources available," says Norma with a smile as she delightfully looks at the new house World Vision turned over to her last month.

She is not a carpenter, not a professional, and not a superwoman. But she is a mother and that's what gives her the strength to do even the work not expected of women.
"I love her because she does not allow us to skip a meal each day and she sees to it that we are in a good condition." ~ Eric, 11.
"I love her because she does not allow us to skip a meal each day and she sees to it that we are in a good condition," shares Norma's 11 year-old son Eric.

If there is one thing that he is proud of his mother, it was when she built their makeshift house after Typhoon Haiyan.

"It was only me and Mama who worked on the house. I was her assistant. Her head was hit by a fallen coconut tree during the typhoon and she used to have headaches after that but it didn't stop her. She wanted us to have a home."

Norma is a single mother from Dagami, Leyte. Her husband died in 2005 and from then on, she had to take the responsibility of raising her four children. She cannot read. She can barely write. But she is good at climbing coconut trees and tries her very best to de-husk at least 1000 coconuts each day to earn P100 (USD$2.50).

"For added income, I would climb coconut trees which would give me additional P3 (about USD$.07) income for every tree. I can climb as many as 30 trees. I have to or my children will starve," she explains.

But that was before Typhoon Haiyan struck Visayas.

Last 8 November, 2013, the Philippines suffered USD$400 million in damage to the coconut industry, with 33 million coconut trees lost.

"I worried for my children. I wanted to feed them three times a day but coconut farming was the only work I knew. Then I was torn between working in the city or staying at home because I have still have at home an 11-year-old and a 9-year-old. If I left, no one will look after them," she recalls with tears.

Moving forward

Norma is grateful for the many blessings her family received. Aside from the relief goods that sustained them for two weeks after the typhoon, she was also involved in the Cash for Work program. Her two eldest sons, 18 and 17 years old, decided to look for work and help her with the family's needs. 

She decided to stay at home, do laundry or cooking jobs so she could look after her younger children. "It is painful for a mother like me to see them work at an early age but we all agreed that just a little sacrifice from each of us and we will get through this", Norma says. 

She adds, "I am grateful that we didn't have to worry about our house anymore. This is more than what we could have hoped for. Maybe you hear this many times from many people but thank you very much," Norma says.

"I am happy that she didn't work in the city.  My mother is the best mother in the world," says Ethel, 9, when asked about Norma. And she is.  She deserves that compliment from her children.  Her strength, her love is definitely still stronger than Haiyan.

To date, World Vision has reached more than 1,005,000 people across its response areas.
Norma with two of her children in front of their new house.