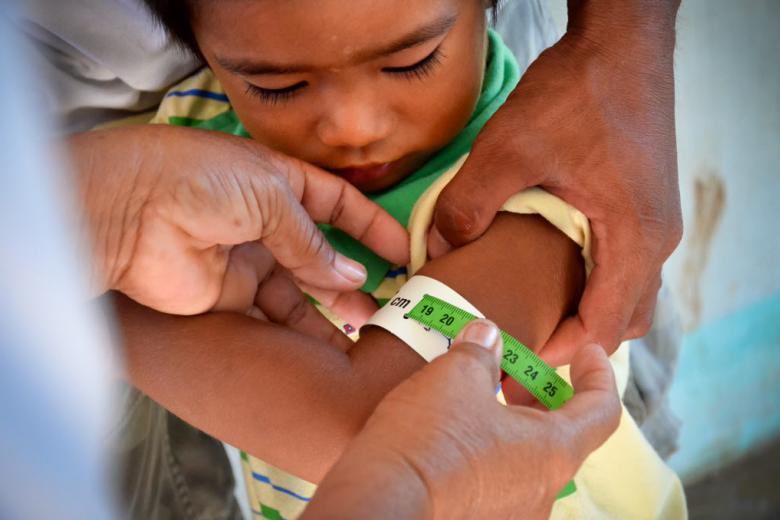 Preventing Chronic Malnutrition in Emergencies
Friday, April 11, 2014
by Monalinda Cadiz, Communications specialist, Child Health Now, World Vision Philippines
One in every three.
That's how many children below the age of five are listed as stunted or malnourished in the areas hardest hit by Typhoon Haiyan. 
It's easy to see these as simple figures. 
But for everyone of us who has held a child, laughed at their antics or made baby talk as the youngster babbles, it's not just a number. 
These are children who are loved, whose parents or caregiver don't have the means or knowledge to improve their children's health.
HAIYAN'S IMPACT ON CHILD GROWTH
In February and March, researchers from the National Nutrition Cluster conducted a health survey of children below the age of five in the worst-hit Hiayan communities.
The results found 30% of children between six months to five years are malnourished, highlighting an ongoing issue with undernutrition. 
Chronically undernourished children have stunted growth, determined through measuring standards of height for age. Stunting or chronic malnutrition is a form of undernutrition resulting from prolonged or repeated episodes of undernutrition which begins as early as pregnancy.  
When Haiyan hit, these already undernourished children were particularly vulnerable – leading some to escalate into the malnourished group. 
WHY WE WORRY ABOUT STUNTING AND MALNUTRITION
Stunting and malnutrition have irreversible effects for the child if left unsolved beyond two years of age.  
Apart from hampering a child's physical growth, brain development is also affected, which will result to low school performance and productivity in adult life.  
Studies like the 2008 Lancet Journal series underscores that stunting is most effectively prevented during the first 1000 days in the life of a child – aptly dubbed the window of opportunity.  The age range covers the time of pregnancy until the child reaches two years of age.
It is not rocket science. 
In disasters, the feeding practices for infants and young children recommended by the World Health Organization (WHO) and the SPHERE handbook is exactly what parents and caregivers have done in many generations.
Optimal feeding practices that maximise survival and reduce morbidity in children under two years old are early initiation of exclusive breastfeeding, exclusive breastfeeding for six months, continued breastfeeding to two years old or beyond, with introduction of adequate, appropriate and safe complementary foods at six months.
RESPONDING TO AVERT CHILD MALNUTRITION
In November, right after Typhoon Haiyan, World Vision began distributing relief goods. At the same time, the organization also began assessing areas where countless mothers with their infants and young children, including pregnant women, needed focused attention on the nutrition status of infants and young children.
Weeks later, Women and Young Children Space (WAYCS) tents were pitched in North Cebu, the Panay islands, Ormoc, Tacloban and the rest of Leyte.  By December, World Vision had put up 14WAYCS tents, accommodating a daily average of 100 mothers per tent with their babies and young children in tow. 
More than a hundred health partners including village health workers were trained on infant and young child nutrition, as well as psychological first aid before the tents were opened to the communities.  
"The WAYCS primarily promoted Infant and Young Child Feeding in emergencies," reports Eureka Fuentes, Health and Nutrition Specialist of World Vision in central Philippines."We have seen behavioral change in mothers, and surprisingly, even their husbands have become supportive in providing proper nutrition and care for their infants and young children,"  Fuentes adds.
Since then, a total of 2,091 breastfeeding and pregnant women, including other caregivers, attended series of sessions on infant and young child feeding at World Vision's WAYCS tents.  
CHILD NUTRITION - A LONG TERM REHABILITATION GOAL
In late February, World Vision started to turn over the operations of the WAYCS to the local governments of North Cebu, followed by other regions where they were established.  
While transitioning from relief response to rehabilitation of areas damaged by the typhoon, World Vision and its local partners are focused on capacity building of health workers to continue facilitating infant and young child feeding interventions in the long term.
"For the rehabilitation phase, World Vision's health and nutrition interventions in the affected areas include helping in repair of damaged health facilities like the Rural Health Units and Barangay Health Centers or Stations, provide medical supplies and anthropometric equipment, and continued capacity building of health workers," summarises Eureka Fuentes, Health and Nutrition Specialist.  "Our goal is to ensure children are healthy, that they are a decreased risk of disease and have proper nutrition to grow healthily."
Monalinda Cadiz is an advocate of children's health. She is a development worker and communication specialist for the Child Health Now Campaign, World Vision's first global campaign on a single issue: decrease child deaths from preventable causes. Child Health Now is a campaign by World Vision. It promotes good nutrition, proper childcare practices and education among families. If you want to participate, donate, volunteer, or sponsor a child, you may visit World Vision Philippines here.