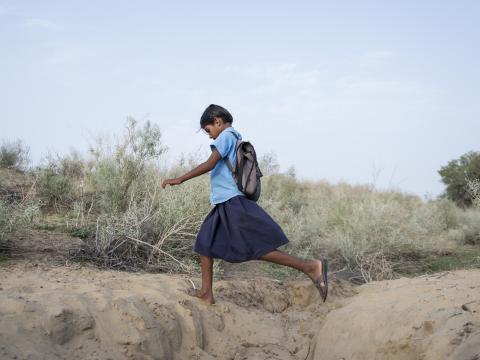 School journey: A tale of two children
Thursday, September 3, 2015
By Tiatemjen Jamir, Communications Officer, World Vision India
Anaya's story
Anaya attends a private school in New Delhi. Her mother is a paediatric dentist while her father is a government employee.
"It took her (Anaya) some time to adjust to going to school, but eventually she did. Now, she can't wait to join her friends on the bus ride to school," says Gopika, Anaya's mother. "It's only the getting up early in the morning bit that's difficult now," she adds.
Anaya says she enjoys the bus ride and the best part about going to school, is, "Friends! I get to spend time laughing and having fun with them on the school bus."
"Either my husband or I walk Anaya to her school bus every morning," says Gopika. "Some families hire drivers for the sole purpose of driving their children around," says Gopika. "We try and make the best for Anaya and at least drive her to football practices and music classes after school."
"The bus is a more feasible option since both my husband and I are working professionals and it would be impossible to drop Anaya to school everyday," says Gopika
Parmila's story
Parmila, 8, and her friend Amru, 9, (wearing dress) on their way to school. They walk in harsh conditions, dealing with obstacles along the way.
Parmila lives in Barmer, in the western part of Rajasthan, forming a part of the Thar Desert. She goes to a public school, the closest one to her home. Her father is a farmer and owns a tractor but has no other vehicles. Her mother never learned to read and is a housewife. Most children walk to school in these parts.
"We will continue to send her to school," says Amra Ram, Parmila's father. "We want her to have a good life and be successful. However, problems will arise when she reaches 8th grade. Schools for higher grades are far and transportation is limited in these parts. Most children drop out. She may also follow suit unless something is done," he says with a look of despair for his youngest daughter.
Parmila and Amru walk through a millet farm on their way home from school.