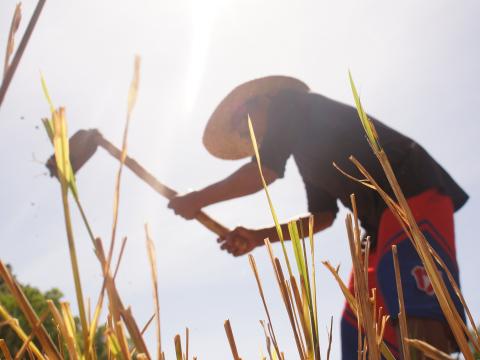 Storms, floods, and drought - El Niño rattles Asia
Friday, July 1, 2016
Since early 2015, an uptick in dry spells and prolonged droughts, as well as increased frequency and intensity of floods/cyclone have hit parts of the Asia-Pacific. The UN estimates almost 350 million people in Mongolia, Vietnam, the Philippines, India, Indonesia, Timor-Leste, and Papua New Guinea live in areas that are, or will be, affected by El Niño.
Assessments in World Vision operations across 18 Asia-Pacific countries since late 2015 have revealed, to varying degrees, food insecurity due to crop failures and livestock deaths/malnourishment, coupled with dwindling sources of safe drinking water and worsening sanitation. Most the hardest-hit communities already had elevated rates of malnutrition and widespread poverty, making it difficult for residents to withstand the impacts of this slow-onset disaster.
Learn more about the impacts on communities across Asia-Pacific
Vanuatu - This wet season in Vanuatu has been one of the driest of record. Small tufts of green grass try to poke through parched dry soil on the island of Tanna. This is symbolic of the recovery effort of Cyclone Pam being hampered by drought brought on by El Nino but also symbolic of the resilient and fighting spirit of the people of Vanuatu. Learn more
India - Around 330 million people - 25% of India's total population - have been hit by a severe drought caused by an extended heatwave. The acute water shortage is taking such a toll on the well-being of children and their communities that it has resulted in major migration, water-borne diseases, spiraling debt and suicide. More about the situation in India
Papua New Guinea - Despite rainfall during January and February, getting back to normality is undeniably a big challenge for many families in Papua New Guinea. Banana a staple food and usually seen almost everywhere, has lost its ability to survive in the gardens. In fact, few mature banana trees were seen around the area during the assessment. More from PNG
Vietnam - El Niño has hit hard in Vietnam. One million people are in need of urgent food assistance and two million lacking access to drinking water. The country's worst drought in 90 years coupled with seawater intrusion into the Mekong River delta have destroyed fruit, rice and sugar crops - over 400,000 hectares of crops have been lost.
Philippines - One of the most severely drought-affected provinces in the Philippines is Antique where an estimated 1,700 farmers working on around 2,500 hectares of farmland that are being affected by El Niño. The town of Hamtic is most damaged. Around 1,500 farmers living in the area are experiencing under-average yield in their harvests which had reduced income of the farming families. Learn more about the experience of one farmer
Papua New Guinea - World Vision PNG's El Niño Response projects aims to increase community access to basic sanitation and safe water. Distributions of drought-tolerant cuttings of sweet potato and cassava will also happen soon to help with food security. More
Learn more about Disaster risk reduction & Climate Change Adaptation