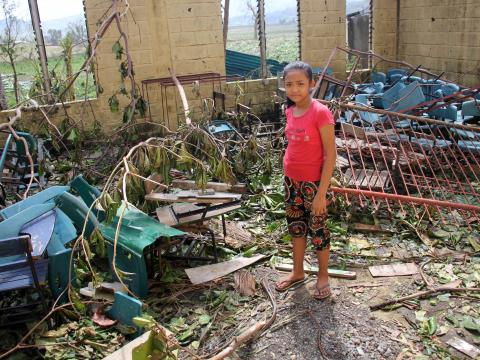 Typhoon Mangkhut left students, teachers with damaged classrooms, books
Tuesday, September 18, 2018
As Typhoon Ompong (Mangkhut) left the Philippines last Sunday, students and teachers in the Cagayan's town of Baggao, nearly 15 hours away from Manila by land, face a new problem on recovery from the damages the typhoon caused on their schools.
Student Celine, 10, who lives a few meters away from her school, saw how Typhoon Ompong toppled trees in her school and ripped off the roof of their classrooms.
"It's sad. I don't know where our teachers will now hold classes," she says.
The Department of Education reported that Typhoon Ompong has damaged more than 100 schools costing at Php106 million.
Classes in the town of Baggao are disrupted for several days now. Celine is not sure when classes will resume.
Celine's father works in Manila as a driver. She said she hasn't talked to her father yet because there is no communications line working. Yesterday, the Department of Social Welfare and Development offered free calls and texts for the people for a limited time.
In the adjacent high school, student volunteers to help their teachers clean their classrooms. Olivia Emvea, 64, a high school principal, is worried on how they will rebuild the classrooms with damaged roofs and school materials.
"Classes may soon start. But look at our classrooms, there are no roofs and steel beams were blown away. Repair would surely cost thousands of pesos. And repair must be done before classes start or students would hold classes on make-shift rooms," Emveasays.
Emvea adds that she might probably ask assistance from the Parent-Teachers Association. Though the group will help, it may not be enough to fully repair all the damages.
A 'different' typhoon
Carol Cabading, a World Vision staff who was in Alcala, the next town to Baggao, at the time the typhoon rummages several towns in Cagayan, describes the typhoon as "different" from the other typhoons she had experienced.
"There was a mix of heavy rains, thunderstorms and strong gusts of winds that lasted from the early morning until late in the afternoon of Saturday. I and my family stayed awake all night because you'll not be able to sleep knowing that your house roof or doors may be ripped off anytime," Cabading, who is also World Vision's Disaster Risk Reduction Specialist, shares.
Celine also describes the typhoon as scary. "We all stayed inside my grandmother's store. It is sturdier."
State of calamity declared
Typhoon Ompong made its first landfall in the town of Baggao in the early morning of September 15. The typhoon has winds of 205kph and gustiness of up to 255kph, considered to be a super typhoon category.
The province of Cagayan was declared under the State of Calamity last September 16. The town has no electricity and no communication signals at the moment.
Typhoon Ompong more than 160,000 families in the seven major Philippine regions, the National Risk Reduction and Management Council reported.
World Vision team is currently coordinating with the local government of Baggao for immediate assistance the people might need.
---ends---