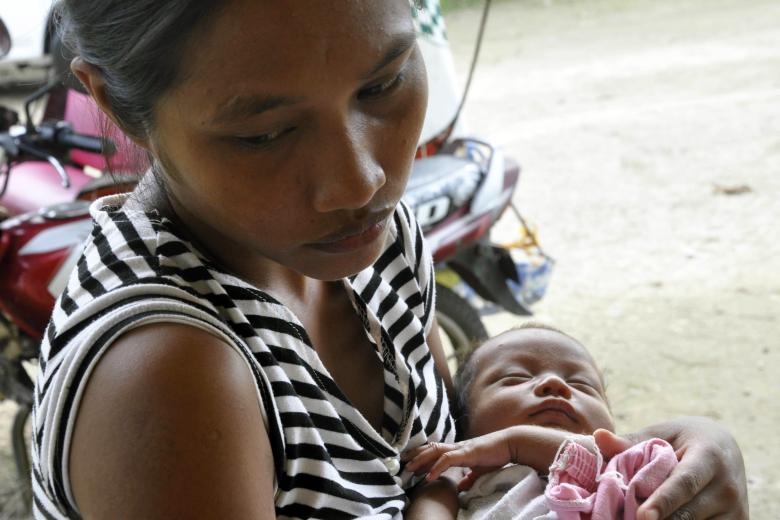 Voice of Survivors: 'The wind and rain were strong and whistling'
Wednesday, November 13, 2013
By Lanie Carillo / Communications Specialist / World Vision Philippines
Curled in a corner, baby Patrick was fast asleep, unaware of what just happened in his hometown. 
His mother, Rowena, sitting outside the hall filled with super typhoon survivors, was listening to a World Vision staff member talking to a village official. 
A few minutes later, baby Patrick made a sound. Rowena came inside and rocked him slowly in her arms to put him to sleep. When he silenced, she put him back in the middle of table to avoid falling. 
Rowena recounts the day Typhoon Yolanda landed in northern Cebu. 
"We ran inside the gym but after several minutes the gym's iron-sheet roof was also blown away. We ran again to the village hall to take cover. The wind and rain were strong and whistling. I just gave birth to Patrick through caesarian. I was running under the rain, carrying my baby."
"My husband was also running with our eldest son. We feared then that if Yolanda would also blow away the roof the village hall, we would have nothing to go to and protect us from Yolanda's rain and wind," recounts Rowena in Bisaya, a dialect spoken in Cebu. 
Outside, many of the houses were damaged. 
Fallen trees, roofs and house debris littered every corner in Libertad, a small village in Bogon City, where the wrath of Yolanda passed and affected all people.  

Bogon City has a population of more than 82,000, which are all affected by Yolanda. 
Like all the trees, electric posts are also damaged leaving the city in total darkness at night. Communication is also a problem.  
Typhoon Yolanda has displaced 65,907 people in Cebu, the Office of Civil Defense Central Visayas reported. 
Rowena's husband, Jerry, made a living by selling coal. He earns Php130 ($3) a week. They used to have a small garden planted with some vegetables that they can use for food. 
Life then for them was difficult. Now, it's worse, made doubly difficult in the aftermath of Yolanda. Without money to buy for food and no garden to pick a few vegetable, Rowena's family would usually eat porridge, a supply from local social welfare agency of the government. 
World Vision is responding and is planning to distribute things such as food, water, hygiene kits, emergency shelter, blankets and sleeping mats to typhoon survivors.