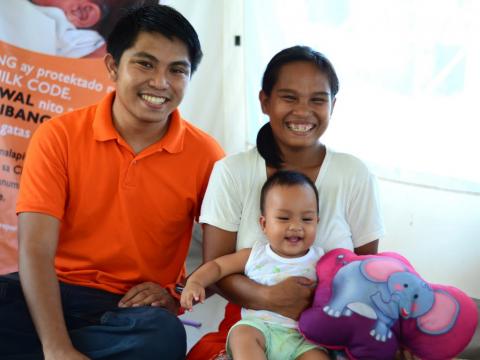 Aidworker's Diary: Salute to the women who sparks hope after Haiyan
Sunday, March 16, 2014
By: Feral Vincent Quitlong, Health and Nutrition Facilitator, World Vision Haiyan Response, Philippines, with Crislyn Felisilda, Communications
Luckily, I was one of the survivors of Typhoon Haiyan. 


I used to work as a nurse in one of the private hospitals in Tacloban City and I was on duty when the super-typhoon hit our hospital.  Haiyan brought winds that screamed and a wall of ocean water – a storm surge – came gushing inside our hospital. 
I nearly panicked and, for a moment, wanted to escape the building. But I knew the patients needed me. We were able to carry all the patients to the second floor, the safest area. Some of them were saved but patients on life support didn't make it. 
Since the hospital facilities were damaged, most of the medicines was washed out, and electricity was down, many hospitals were closed. Just after the worst of the storm ended, patients wounded by flying debris started arriving. Many needed medical aid but there was only limited supplies and soon ran out. It was really hard at that time. I worked for 32 hours straight until a new shift could be found.
I borrowed a motorbike and drove through my devastated city, through fallen hydro posts, endless debris and past bodies cast along the roadside. When I reached my house, I found our house was wet, drying out from the storm surge. I saw my mother cooking and found my brother trying to salvage some of things. After being unable to contact them, I was completely overwhelmed with relief. 
The following day, I tried to buy gasoline to return to the hospital, a task that took half a day. I wanted to get back to work, but in the line I learned from a co-worker the hospital had shutdown, the hospital administration closed the health centre after they ran out of medical supplies. 
Still, I felt a huge conviction to help. I wanted to be part of any relief operations in my hometown and came across World Vision in Tacloban. 
Later in November, I became part of the health and nutrition team of World Vision Haiyan emergency response. We put up tents for women and mothers who survived the typhoon in the different areas of Leyte. From then on, I devoted most of my time with these women through the Women and Young Children Space (WaYCS). 
As I spend time with them, I got to know them more from their stories. I learned that the community health volunteers, who are mostly women, were the first responders after the typhoon. Since most of the houses and structures were damaged, these women were able to organise shelters the homeless. They were able to apply basic first aid to those who got hurt and ill. They cooked food for the kids and neighbours. They collected dry clothes and gave it to those who needed it, especially the children.  
In the World Vision tent, women and moms gather together six days per week. It seems like the tent is a refuge for them. In our sessions, we basically focus on breastfeeding, infant and young children preparation including complimentary feeding. We encouraged them to continue breastfeeding even after the disaster and I'm glad they were able to apply what they've learned from our sessions. I'm happy that they learn to care for the infants and young children better. 
Although I get tired sometimes, it's very uplifting to see their smiles. Being trained on doing Psychological First Aid, they were able to confide their fears, anxieties, and stress after the typhoon. As I listen to them often, I become more amazed on their greatness, their strength and their resiliency. 
Their participation in the tent challenged every ounce of their creativity, toughness and flexibility. We talked about their safety, well-being and empowerment. They listen and talk to those who are yet to fully unload their stories of survival and grief. They counsel each other on physical and psychological wellness. To improvise stress reduction, there were games, dancing, singing and laughing inside the tent. We are all having fun. 
I'm proud that they're able to stand up the worst. They are working hand in hand with us towards rebuilding and recovery. 

I am proud of the women and moms overcoming the hardship after the storm. Haiyan is one of the biggest challenges in our lives and I'm glad that little by little, these women are able to make it through.
Indeed, women portray a big role in the society. They continue to inspire me every single day. I hope women can expand more their greatness. I hope they'll become better caregivers. I hope they'll keep the hope and faith in them. I hope they will keep on taking care of their family and children. And I hope they can take care of themselves too. 
I recognise the women, the mothers and the wives, who served as a catalyst for change even after Haiyan. I admire their courage, affection, and love for their families and communities. I salute all women who continue to spark hope.
The Women and Young Children Space of World Vision provides a space for pregnant women, lactating, and mothers with children under five to learn about feeding, caring, health-seeking, hygiene promotions and psychosocial support. As of this writing, 14 tents were set up in the provinces of Leyte, Panay and Northern Cebu and about 1,770 women attend the weekday sessions regularly.