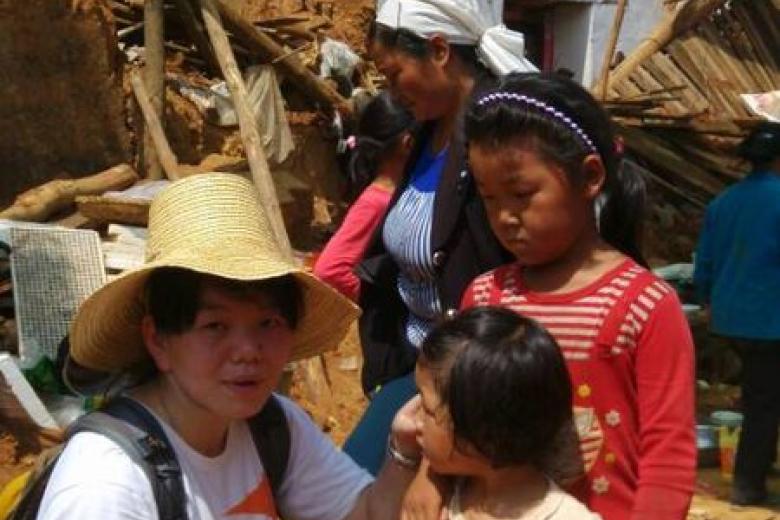 China: An Aid Worker's Diary
Thursday, August 7, 2014
August 3rd
I learned about the Yunnan earthquake from the internet that afternoon. It was reported as a 6.5 magnitude, a rather destructive one in the province! My mind raced with questions - "Zhaotong is a relatively poor area, will houses there withstand such strong earthquake?". Death toll was climbing up, more and more houses have collapsed and knowing these numbers gripped my heart.
I have never been involved in disaster relief work at this scale in the past, but my intuition told me that as a World Vision communicator, it is now be my turn to join the this emergency work. I initially kept it from my family, for fear that they would be worried. At 10pm that night, my mobile phone lit up in the darkness and it was my supervisor.
"Pack your clothes for the next few days, and get ready to leave tomorrow morning. Do you have any problems?" she asked.
"No problem," I said.
August 4th
It was early in the morning. My little daughter was still sleeping. My mother kept reminding me the importance of safety when I left home.
August 5th
We arrived at Zhaotong City at 2am midnight. After a short rest, we set off to the quake-hit Ludian County in the morning. Longtoushan Township is the most severely damaged township, but we were not able to reach there. Accompanied by local civil affairs bureau staff, we headed to another hard-hit area----Huodehong Township----to assess the impact and distribute relief goods.
On the way to Huodehong Township, we saw no severe damages. Streets were busy, filled with vehicles carrying relief goods. The quiet small town was turned into a battlefield. When we arrived at Wayaobao village, affected villagers were already waiting along the road. Houses there looked intact, but inside there were different levels of damages, such as peeling walls, fallen roof beams and tiles. Villagers were staying outside in an open space in fear of continuous aftershocks.
Near the county government building I met a very lovely little girl. Her head was wrapped in white gauze. She was playing with her sister on the roadside. I went to them for a chat. I asked if she still feels the pain on her head. She smiled, saying "no." Her mother who works in another place told me that she could not get in touch with her daughters after the earthquake.
Listening to her recounts, I could clearly feel her worry and anxiety. All of their houses have collapsed, now their family of six was living in a tent with their relatives. The earthquake happened all of a sudden, it was impossible to take anything out of the house. The girls were wearing the same clothes these days and they have no clothes to change. It was lunch time and their father brought two bowls of instant noodles. Squatting on roadside, the two girls started eating.
They were about the same age as my girl. I patted on their shoulders as they were having lunch. They almost dipped their little heads into the bowl. Perhaps they were too hungry.
When we arrived at Yinchang village, a severely damaged village in Huodehong Township, the scene of collapsed houses stretching for miles struck everyone of us by the nerves. When the earthquake happened, in the blink of an eye, their houses were turned into heaps of ruins. Mr. Ge, who is in his fifties, took us to see his collapsed houses.
"When I rushed back from the fields, I thought to myself - everything is lost..." Mr. Ge recalled. His words kept echoing in my mind.
An old lady held my hands tightly when we were about to leave the village. She said she didn't know when she would have a house again. Her tears started running down her cheeks as she spoke.
Looking around the debris, I felt my heart being wrenched really hard. For these villagers, their dreams is to own a house. What collapsed in the earthquake is not just their houses but their dreams. The courage needed to face such tribulations and an uncertain future is simply beyond imagination.
It was already early evening when we left Yinchang village. We had our dinner, a bowl of instant noodle alongside some children. It was a simple meal but instant noodles have never tasted this good. If you ask me what I hope for most, I will say I hope that the children in Ludian County will have changes of clothes, I hope they don't have to eat instant noodles three meals a day and I hope those affected can return to their normal lives as soon as possible.