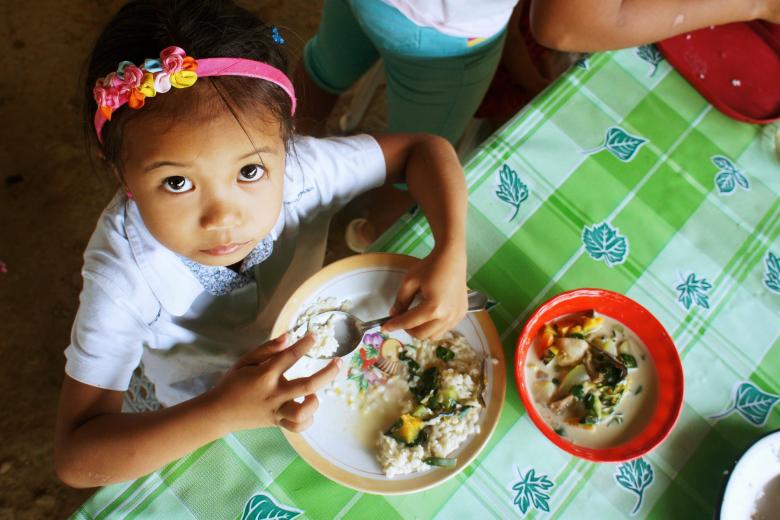 The fight against malnutrition in the Philippines
Thursday, April 2, 2015
How do you solve malnutrition? Programmes like the Pinoy Nutrition Hub.
    •    30.3% prevalence of stunting (moderate and severe) in the Philippines (WHO)
    •    Under-Five mortality rate: 30 per 1,000 live births (WHO
World Vision is addressing child health in the Philippines. Here's one way children are benefitting:
During my recent trip to the central part of the Philippines, I witnessed the transformative work of mothers in a secluded community. Through World Vision's nutrition rehabilitation project, the community people led by the mothers, work hand in hand to battle malnutrition.
It is true that the life of a child can greatly affect us.

When your own child gets sick, you make sure that the best health services are provided. When you pass by a child living on the street, you look at them with pity or if you find it too unbearable, you look away.

This is because, undeniably, children are close to our hearts.
How would you feel knowing that there are millions of children who do not receive enough care– leaving them malnourished, sick, or worse- fighting for their lives?
In the Philippines, 20.2% of children from 0 to 4 years old suffer from being underweight. 32% of kids who belong to an older age group (5-10 years old) share the same plight. Between these two age groups, 7.9% of them are acutely malnourished.*

I have witnessed the lives of these children. Being an aid worker, I have the opportunity to travel to the furthest communities in my country. It no longer surprises me to see small huts made of lightweight wooden materials that shelter 10-13 family members, or children with frail bodies working by carrying fully-load sacks.

What makes me cringe is seeing little children, as young as 2-3 years old, who have small bodies, their skin almost sticking to their narrow bones, their eyes that stare blankly as I pass. Whether these children were born with an easy life or not, they deserve to be well provided for.

It is their right.
World Vision believes that children must be protected from malnutrition. In fact, they have intensified their work and developed a programme that will solely focus on battling this health problem.

I recently travelled to Bohol, the 10th largest island in the Philippine archipelago, to observe the work against malnutrition, which World Vision dubbed as Pinoy Nutrition Hub (PNH).

Despite its tourist attractions such as the chocolate hills and the endemic tarsiers [a small tree-loving primate], Bohol is a province with many cases of malnutrition.
I watched mothers gathering in a bungalow-type house with their children playing around. They were busy cooking a vegetable meal. I was fortunate to come in the middle of their PNH session. I talked to some of the mothers, each one has a unique story, but they were almost in unison as they shared about their children being previously malnourished.
It is amazing to learn about the great work that World Vision is doing to engage communities to battle malnutrition. It is even more amazing to meet the people behind these feats – the aid workers, community partners, and the caregivers.

But nothing compares to witnessing the results – to meet the children benefitting from the nutrition project, with their healthy bodies and smiles. After all, children are always close to our hearts.


*Reference - 2011 National Nutrition Survey for Children and Other Age Groups by Food and Nutrition Research Institute (FNRI)
About the author | Mong Jimenez works as a communications associate for World Vision Philippines.