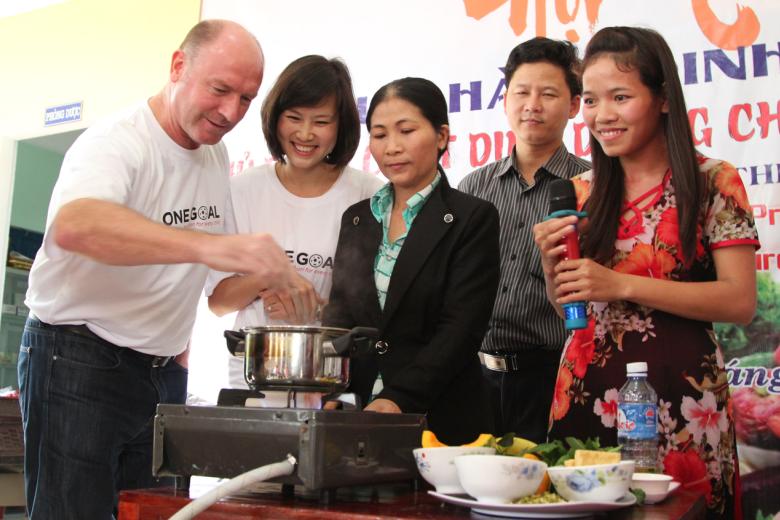 Football for Nutrition: A Dream for a World Cup Championship
Wednesday, April 9, 2014
In Vietnam, many people are crazy about football. 
In 2003, the streets of Hanoi were crowded with a sea of people and flags, celebrating when Vietnam beat Malaysia in a semi-final football match at the Southeast Asian (SEA) Games, which was held in the capital city. 
Riding a motorbike slowly along a road to the national stadium, my friend gave high-fives to every person standing along the road. I remember that my friend's watch stopped working after that celebration. 
Despite our enthusiastic fans, Vietnam team hasn't won a SEA Games and our team hasn't joined a World Cup. Yet.
And while I'm normally not a football fan, today was an honour. I was assigned to cover two popular footballers who were visiting World Vision nutrition activities in Hai Lang district in the central province of Quang Tri. 
We waited. Cleaned our camera lenses, adjusted the tripods, checked the angles. Then, the ambassadors arrived.
Do Thi Ngoc Cham, a Golden Ball winner (also known as Footballer of the Year), looked more like a glamorous actress than a footballer. The man looked so modest that no one might believe he is Stephen McMahon, former professional footballer, coach, and current television announcer.
Our group traveled to the local health station, arriving with a welcome by the entire community. Like me, they wanted to see the two special visitors and join with them in the activities. 
Cham and Stephen took part in a game with dozens of women who are members of World Vision-established nutrition clubs. Divided into groups, each participant kicked a ball through the goal. Each would answer a question about nutrition if their ball hit a small board inside the goal.
Whoever gave the most correct answers would  the winner
Cham and her group won the game, even though she was wearing a skirt and high-heel shoes! Though he didn't win, Stephen guided his group members, carefully explaining about how to score a goal.
No matter if they won or lost, the women and other villagers felt closer to the two ambassadors. The visitors were no longer strange footballers coming from distant places; they were two new friends. 
After the game, Cham and Stephen watched as two mothers demonstrated how to cook porridge for their small children. Cham asked many questions, "My son is 16 months and I am learning how to give him good food too," she explained.
Stephen offered to provide the porridge taste-test, and praised it. "Today is a fantastic experience for me, this makes me feel special indeed," he said.
The meeting with the two footballers went so quickly. No one wanted to say goodbye with the visitors when they left. The trip may not help Vietnam win a World Cup immediately, but it's a good start to draw the attention of both local villagers and authorities on further improving nutrition for children. With better nutrition, our younger generation will have better health. 
I can't help dreaming about a World Cup championship for Vietnam team in the years to come.