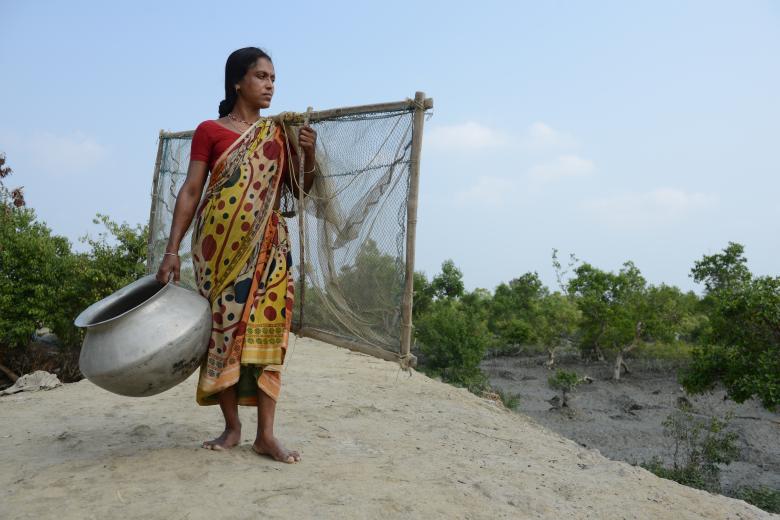 India Part 2: See what I see, Basanti calling
Wednesday, March 11, 2015
A NEW DAY, A NEW DAWN
The dawn of a brand new day brings along with it the promise of gaining fresh insights into the lives of communities living at the edge of the Sundarbans.
Walking the path where majestic Royal Bengal tigers tread is an exhilarating feeling and I keep imagining the odds of confronting one. It is this very embankment that separates human habitation from the wildlife residing in the mangroves.
Probati, 35, who lives near the mound, testifies about her close encounter with the regal beast.
"Just a few days ago, when I when fishing early morning. I saw tiny lights flickering in the forest. I had taken the solar light that World Vision had given my daughter for studying at night. When I swung it around, I saw it. The tiger was very close. I stepped back slowly flashing the solar light constantly. I was able to reach home without being harmed. The solar light saved my life."
Just hearing about the incident send shivers down my spine. I jot down every detail of her story.
Losing her husband jolted her position from a homemaker to a breadwinner. Risking her life daily by fishing in the Sundarbans, Probati does everything in her power to provide for her children.
For me, she is the epitome of courage.
Leaving Probati's village I head to the final hamlet in the Basanti travel leg.
One of the enthralling parts of my travels is meeting exceptional people. Stopping at a local restaurant for a short break, I glance at the menu for the day, written in the local language Bengali. Requesting a translation, I blurt out a few words in Hindi.
Excited to hear the language, the owner, Dilip Mondol strikes up a conversation with me in his broken Hindi.
"I too Hindi speak. Not good very," he says while serving a plate of appetising local delicacies.
From how he travelled throughout India during his bachelorhood, to the day he met his wife, Dilip relives momentous occasions as he narrates his saga.
Giggling Pratima, his wife says, "Enough about your travels let her eat. As for all the fun you had during your trip, now let me remind you it's my turn to have some adventure. Next trip I go with you."
Dilip nods a reassuring yes.
Filled-up with Pratima's home cooked scrumptious treat and consumed by Dilip's entertaining chatter I leave the restaurant a satisfied customer.
THE CLOSING CHAPTER
Balancing on a skinny wooden plank, I cross the stream to lush paddy fields to reach Anwesha Tarafdar's house.
As Anwesha, 7, prepares to head out to school, her mother fixes her uniform collar. I notice a scar running down Anwesha's chest.
"We nearly lost her. Becoming a mother for the first time is supposed to be a joyous moment, but for me it was filled with darkness and uncertainty. Anwesha needed surgery to live. We had no money. Do you know how it feels to be helpless? Look at her now. Our Anwesha is able to walk and do things on her own strength. Help came at the right time and I am so grateful," says Konika Tarafdar, Anwesha's mother.
There is nothing more rewarding to see than a mother cherishing her precious angel.
Leaving the community, I quickly reflect on the resources gathered during the entire trip; a kitchen garden to fight malnutrition, educational assistance to encourage the drive of a mother to educate her children, and the last story of a surgery that saves a life.
It is now time for me to move on to my next destination, North Tripura.
What a way to bid adieu to Basanti than having a wild marsh crab spreading its claws wide open, summing up the entire visit in one grand gesture; all encompassing, all embracing and uplifting.
About the author | Annila Harris is a communications officer for World Vision in northern India.