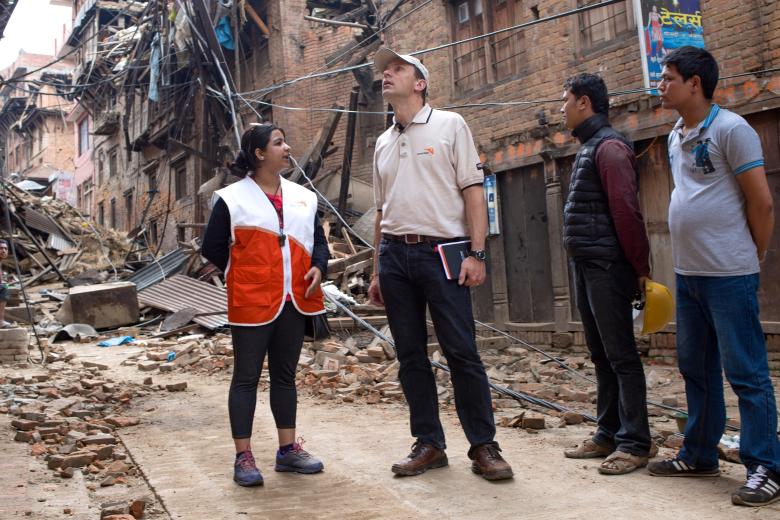 Motherhood and responding to a disaster
Friday, May 8, 2015
Since I was a young child I have been hearing that one day an earthquake would strike Nepal and cause a major disaster, crippling the lives of many. We knew Nepal was vulnerable.
Now, as a mother I watch my son, and other children his age try to come to terms with the terrible impact of an earthquake stronger than I could have imagined. I know this will be one of the most unforgettable experiences of my life and of my son's life as well.
I still relive the moment.
I was on a futsal field and the ground was shaking up and down so much that I could not control myself. People fell down and many were hurt after falling roughly to onto the ground.
The first thought came to me was my son at home.
I was probably the first person to leave that place because I needed to be with him.
When I reached home he was with some of my neighbors on the open ground next to my house. Just as he saw me, he ran towards me and hugged me tight and started crying. All I could do was tell him to keep calm and not be afraid even when I was afraid myself. His face clearly showed his fear and his teary eyes almost made me cry but I had to control and be strong in front of him.
He was also complaining of backache as he had fallen on the steps when trying to run out. I also realized that he wasn't even wearing slippers as he had rushed out of the house when it started to shake.
I took him and my neighbors to the other side of my house where the open space was much larger. All I noticed was that the boundary walls of all our neighbors had collapsed.
My son and I sat down on a mat in the sand. He was complaining of backache. I had nothing with me, so I just laid him on my lap and massaged his back softly.
What made that day so awful were the aftershocks that continued around the clock.
My husband was out of city and trying to catch a flight back home but the flights were canceled so he planned to come by road- a 7-hour drive that could be risky due to damaged roads. Fortunately he returned home around midnight.
With my son in my lap I was trying to tell him everything would be fine but the aftershocks repeatedly remind us that things were not normal. The aftershocks made it impossible for us to go inside. Making things worse, rain started to pour down on us so we ended up sleeping inside our car.
Everything around us has changed.
I left my son at my parent's house, when I went back to the office within 48 hours. We started working in the office garage because the building was damaged.
It was one of my happiest moments to see my friends who were safe and back to work. It was an elating feeling that we all survived and were ready to serve the children and families of our country despite our own troubles at home.
At work there was so much to do and at the same time the aftershocks would remind me how my son must be reacting. It was a difficult- trying to balance work and motherhood for the first time. 
Back at home, my frightened son would always cry when the earth shook and was reluctant to even going inside the compound, so we ended up sleeping outside for three nights.
As people say life moves on and we deal with life as it comes- yes that's how I am also dealing with this situation.