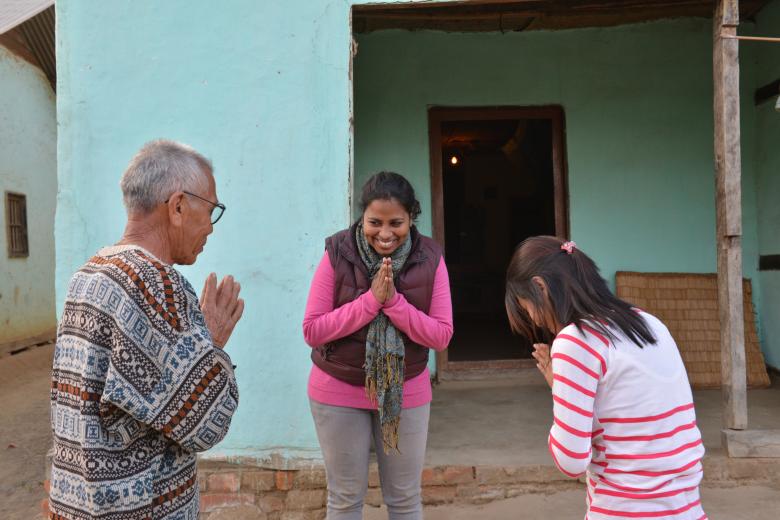 Part of Me
Thursday, December 1, 2016
Bump, bump goes the SUV, tossing its passengers up and down, as we meander through dusky and unlevelled motorways. Half-lit concrete structures, silhouetted by beams of dawn sunlight, give way to vast expanses of partially barren hills. Holding on tight, I concentrate on catching a glimpse of the serene countryside.
"This is all Imphal East district," informs Thangkhopao Gangte, a World Vision field staff. 
Playing hide and seek amid a cover of dismal clouds, the sun finally makes its glorious entrance illuminating the grey skies. Making their way up the hills, villagers set up shops besides the road. One by one the fresh organic produce adorns the drab roadside, rapidly draping it in vibrant shades of orange, browns and greens. 
As we cautiously drive down the rickety paths, glimpses of women dressed in their traditional attire leave behind hints of the region's vivacious cultural heritage.
Diverting my attention away from the stupendous sights and sounds of the place, I engage in conversation to get more insights into the essence of my mission. 
 "So why this region?" I enquire.
"The area is located close to Myanmar and hence near what is called "The Golden Triangle" drug trail. This has led to the easy access to illegal drugs, drug-trafficking and its abuse, plus multiple health and social issues stemming from its usage, HIV being one of them; women and children the ones most affected," says Thangkhopao. 
As per the President of Manipur Networks of Positive People, L. Deepak, due to excessive drug-trafficking, there was an increase in injected drug usage in the northeast States of Manipur, Mizoram and Nagaland in the mid-1980s. But now, in the state, the route of transmission is no longer limited to injecting drug users and it has spread further to their sexual partners and children. 
**Among the states/Union Territories, in 2015, Manipur has shown the highest estimated adult HIV prevalence of 1.15 per cent. 
Shrouded in the grandiose beauty of the vast outback lies hidden the solemn reality of an orphaned generation coping with a stringent HIV societal dogma. The magnitude of the HIV paradigm unravels itself as the field staff elucidates its social impact on the children left behind. 
"We are here," says the field staff, reigning in my wandering thoughts. The scent of wet mud greets me as I walk through the rural allies heading to my first stop; an embroidery training centre. 
Juxtaposed against the large concrete pallid walls of the centre, stands a petite bashful girl, wearing a bright-scarlet traditional attire, waiting to make her acquaintance. Upon the advice of the volunteers she cautiously moves towards me, attempting to strike a conversation. 
"Hello miss, my name is Memcha*, this is where I come for my training," she says. With her hesitation to keep the conversation going, I pre-empt a dead silence by requesting her to show me around the centre. Bursts of pink, orange, red pop out from an array of fabric and coloured thread laid out within the four walls of the centre. 
Running her fingers through the textile she says, "We learn how to create patterns and designs on bed sheets, blankets, shawls, mekhlas. As a woman, this skill is important to have in order to earn money," says 17-year-old Memcha.
"That's my machine," she says, pointing to a motorised machine lying in the corner of the room. "I got it from World Vision and it will help earn an income in the future. They also enrolled me into this embroidery course. For now I leave my machine here at the training centre so that it comes in handy while learning. Once my training gets complete. I will take it back home.
"This feels like I am back in school. Balancing home and training is a struggle but I am trying to be regular. I like coming here. New patterns and designs in embroidery fascinate me and I am keen on learning as many as I can. My trainer is kind and she teaches me well and I don't hesitate to ask her questions," she says. 
Enumerating the various fraction of the embroidery course Memcha's trainer's Premita says, "The first thing the student learns is about the machine, what are its components and how to use it. I teach them about different kinds of fabric, the various patterns, how to stitch, cut and do finishing. There is a lot of demand for this kind of work here. Once the girls have mastered all the styles, embroidery work becomes a good way of earning an income especially for girls like Memcha, who have dropped out of school. They can make as much as 250 USD per month. Memcha is a fast learner and absorbs whatever is taught eagerly. Whenever an assignment is given to her she is able to complete it." 
Stepping aside I ardently watch the dynamic duo of the teacher and student in action. Like a twirling ballerina gracefully performing an Entrechat, stitch by stitch, the needle loops the thread in and out of the sparkly embellishment as Memcha keeps pace with her trainer, securely embedding it into the master design of the blanket. 
Completing her assignment for the day Memcha prepares to exit the centre. "So see you tomorrow same time," says Premita. Bidding her goodbyes, Memcha makes her way to the main road.
 "This is my routine. Get up at 6am. It is our tradition to have a bath before we do any household work. Then I wash the utensils and start my cooking for the day. After serving breakfast for my brother and grandfather, I take a public transport and come here to the centre for my embroidery class. Then I go back home to finish the rest of my chores plus get lunch ready before my brother comes back from school. It is just the two of us now. It is my responsibility to care for him," she says. 
Gradually, acclimatising to my presence, Memcha indulges in small talk, leading up to her house. Finding solace in the comforts of her home environment, she takes on the avatar of a dutiful host. 
"Sit here miss," she says, passing on a plastic stool to me. "The mud floor will dirty your clothes," she says. Resting at the edge of her bed post, Memcha reminisces on her 'Once upon a time'. 
"As I grow older I see more of my mother in me. She lived a simple and contented life. I have that trait. Just to be satisfied with whatever life has handed to me; the good and the bad.
"I was six when my mother passed away and my brother was just eight months old. Since then it feels like I have taken over the role of a mother," she says. 
Bit by bit as the story of Memcha's tribulation unfolds before me, my naive definition of childhood, characterised by blithe attitude and ecstatic moments, held no meaning. Oblivious to the reason for her parents' death, Memcha was caught up in a whirlpool of antagonistic neighbourhood gossip and became its naive prey. 
"We were a popular family in our community. We had many friends. But is all changed the instant my parents became ill. First my father succumbed to his illness then my mother fell sick and was taken to her maternal home where she passed away. They loved me very much. I didn't know why they died; all I felt was sadness. Tears kept coming. In the midst of our loss, I heard people talking about my family. They used to say that my parents died of HIV. I just wanted the murmuring and passing rumours to stop," says Memcha. 
Memcha's suspicions, fuelled by outlandish accusations, evoked the boldness to ultimately confront her grandfather. 
"I wanted to know the truth. It was after pestering that my paternal grandfather told me everything. I was only in Grade 3. It all started coming back to me. After father's death mother and I went to the hospital. I didn't know why then but grandfather said it was to do an HIV test because my father was diagnosed with HIV."
"The results showed that both my mom and I were HIV positive. But mother hid it from me. I guess it was her way of protecting me from the trauma and stigma," she says.
As per NACO report 2014-15, The total number of people living with HIV/AIDS in India was estimated at around 2.1 million in 2011, 86% of whom were 15-49 years old. Children (<15 yrs) account for 7% (145,000) of all infections in 2011. All the cases for children age 0-14 years living with HIV are calculated as resulting from mother-to-child transmission. 
With the revelation of the test verdict, the veil of ignorance had already come undone, bringing the rays of judgment piercing through Memcha's insubstantial life. As she grew, the societal scoffs overpowered her tender spirit; smothering every ounce of the will to live. 
"My world was no longer sociable. Friends didn't want to sit with me or play with me. I now realise that alienation and loneliness makes one believe things that are not true. I blamed my parents for my suffering. Why did they give birth to me and leave me alone to deal with HIV, they should have killed me. My relatives often commented, 'Don't think you will live long. The virus is in you. You'll die soon.' There were days when I honestly wanted to end my life," she says. 
Losing both parents within a short span of time crippled the family's economic status, propelling their 'fall from grace'. 
"We spent a lot of money on my parent's treatment, but they didn't survive. We got no help from my maternal family. It felt like they were waiting for my mother to die. They took everything, my mother's paddy field and even claimed my parent's life insurance. We were left with nothing," says Memcha. 
As I sit there catching flashbacks of Memcha's life, the staggering complexities concerning an orphaned child's well-being, especially those living with HIV, gradually unearth themselves. 
"Orphaned children affected by HIV continue to face social stigma and discrimination. Their vulnerability to abuse is increased due to unfavourable economic conditions, chronic illnesses in the family, exploitation of their labour exposing them to physical and sexual violence, limited opportunities for quality education and jobs. Since they are seldom protected by local laws, they may be denied their property rights and right to inheritance. Children struggle with their identity, leading to psychological and behavioural issues," says Dr Anita Victor, Director-Head of World Vision India. 
Taking a much needed break from his rigorous basket weaving, Memcha's grandfather signals tea time. Like a spring, Memcha swiftly gets up and heads to the kitchen to fire up a pot of tea and cup of a nutritional malt milk drink for her little brother. Pupu, as she lovingly called her paternal grandfather, was the only constant in the equation of variable dominance.
"Since the time we were little, Pupu and my grandmother took care of us. Whatever he earned from his paddy field he invested in our upbringing. When the whole world was against us, he stood by our side," she says. 
Surviving on the spoils of her grandfather's paddy field and a sympathetic-handout from one of her uncle for studies, Memcha attained Grade 8 certification. But false hope of a copacetic world disintegrated into thin air with the terminal illness of her grandmother. 
"We had to sell the field for my grandmother's treatment. Cancer claimed her life. My uncle couldn't support our studies anymore. Those were the hard times. Managing one meal in a day was becoming hard. There were times when I had skipped meals and went to sleep or ate at a friend's place because there was no food at home. I had to sacrifice my hopes of acquiring an education and dropped out of school," says Memcha. 
Selling the notion of survival, Memcha's grandfather discouraged discourses about educational aspirations. Food deprivation and strong ART medication tugging on the string of Memcha's life from both sides snapped her frail body at the weakest spot; validating her relative's death prediction. 
"My CD4 count fell. No hospital was willing to admit me. I was very weak and I really thought my life was going to end. But finally one Catholic hospital agreed to admit me. My haemoglobin count was low and I had to get a blood transfusion. I survived," she says. 
During admission Memcha was diagnosed as being severely anaemic. World Vision provided medical assistance for her treatment along with nutrition support, enabling her to have access to a diet rich in calcium and iron, aimed to boost her battered immune system.
"With the transfusion and having nutritious food my CD4 has increased. The tiredness and fatigue has reduced a lot," says Memcha. 
Pouring out the tea into dainty cups, she pauses to call out to her grandfather. Receiving no response, she crosses over from the kitchen to an area designated for the petty shop. Sitting at the edge of a wooden stool, her grandfather sits patiently explaining to Memcha's brother the process of recording the business finances. 
"The tea is ready Pupu. Tomba* you have your tuitions now so please have your malt drink quickly and head out. Miss, please join us or else the tea will get cold," she says escorting us to the courtyard. 
"During our tough moments when we didn't have any income source, World Vision encouraged my grandfather to start a petty shop. They gave us items like rice, lentils, sugar, soap, oil for the shop which we could sell to earn an income. Some money we used to run our household. Some money from the petty shop, along with some borrowed money, we bought chicks to start a poultry business. For Tomba's education World Vision also assisted with his school fees. Now we have around 200 chickens."
"Each hen we sell for $1.8 USD. So with the combined income earned from the petty shop and the chicks we are in a position to pay Tomba's school fees. He came first in his class this year. I am proud of him," says Memcha.
One after another, Memcha methodically executes the tasks for the day with grace. Like a whiff of cool summer breeze, her new found persona of resilience is refreshing to witness. 
"I see my attitude towards HIV change. I have made my peace with it. I have attended sensitisation programmes conducted by World Vision and have more knowledge about HIV including how to care for myself and my brother. Now I know I can live even if I have HIV. I choose HIV over any terminal illness. After attending these sensitisation programmes, my grandfather also has become more vocal in defending us to the relatives. The confidence in myself and my abilities has increased. I refuse to let ignorant remarks of people affect me anymore. I tell myself why to listen to the people who didn't come to my aid when I needed them," she says. 
Courteously smiling at me, Memcha passes on the tea. Her every gesture exuberates gratitude and thankfulness. Tickling me to ask one last question, my brain prompts, "So what now? Any future plans?"
"With my acquired skills I want to start my own boutique and training centre here in my village."
"My mother was a very determined and hard working woman.I too will work hard and train nicely to build my skill and confidence. I remember her telling me she wasn't able to do much us but she wished we studied well and not stop our studies. I had no choice and had to drop out of school but my brother has a choice. I have made it my mission to educate him with the money I will earn from embroidery work, so that I honour her wishes. That's my reason for living," says Memcha. 
As the sun sets recreating yet another striking dusk, our vehicle leaves behind a bubbly girl ardently waving her hands bidding us goodbye. For me, the cumulative statistics on children living with HIV no longer presented itself as a pie-chart to be assessed from a distance, but the distinctive face of Memcha to be deciphered from proximity. 
"Working in the field of children and families affected by HIV and AIDS, the greatest social implications of HIV falls on women and children. Children, especially those orphaned by AIDS, often bear the brutalities of a harsh life as they are exposed to all kinds of vulnerabilities. They are deprived of basic necessities like protection and care, health and nutrition, education and shelter. That is why, at each aspect of the child's life, various interventions are needed to ensure that their basic necessities are fulfilled. There is much more that needs to be done to impact the lives of children living with HIV so that they have a better chance to survive, thrive and live life with dignity," says Asosii Loli John, Project Manager, World Vision. 
*Names changed to protect identity 
Extra Information:
•           Ten countries have more than 1 million people living with HIV.
India (2.1 million) ranks 3 out of the 10 countries after South Africa and Nigeria
(Source: UNAIDS–Lancet Commission on Defeating AIDS—Advancing Global Health, 2015)
•           The estimated number of PLHIV in India has maintained a steady declining trend from 2.32 million in 2006 to 2.1 million in 2011.
•           Children (<15 years) accounted for 12% (10,400) of total new infections
(Source: India HIV Estimations 2015- A Technical Report)
•           World Vision is one of the NGOs, in Manipur, working directly with children living with HIV and solely focusing on care and support of children and their families
Source: NACO Report 2014-2015 and **India HIV Estimations 2015- A Technical Report |