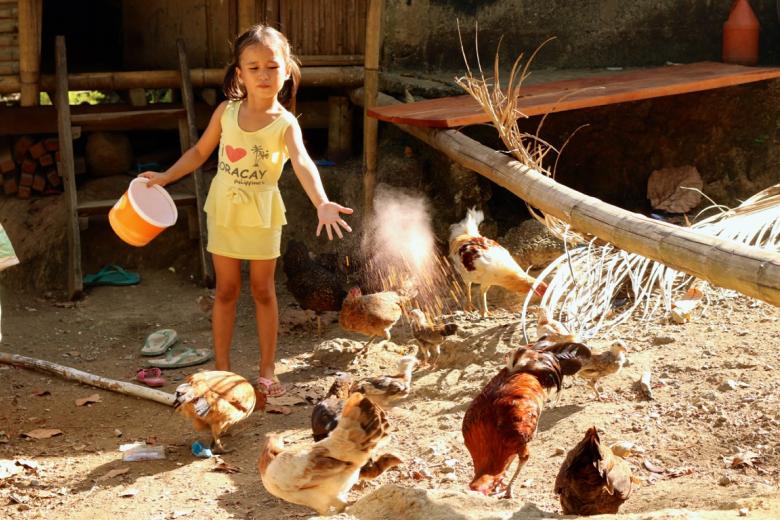 Typhoon Haiyan: 15 months later on Panay Island
Saturday, July 11, 2015
Last week, I had the opportunity to visit our areas of response on Panay Island, to document the closing of the Panay Haiyan response. It's been 15 months to be exact. I was wondering if that time was enough to complete all the tasks that were set out for us.

When the news of Haiyan's aftermath reached people across the world, everyone mourned with the Filipino communities. More than 6000 died and about 4 million people were displaced. The days that followed brought scenes of sadness and destruction, even more harrowing than expected.
As I moved around from community to community, I asked the driver to stop from time to time so I could talk to people. I was hit with a realization- change is inevitable but if it comes with proper handling, recovery is possible.

Wilmer Panado is a father of two from Iloilo. I asked to talk to him while he was working on his house. He eagerly ushered me to the back of the house to show the pigs he received from World Vision last December.
Change is inevitable but if it comes with proper handling, recovery is possible.
"I already sold the other one earlier in March. I was able to buy materials for our house, and some of the money was used to purchase another piglet. I want to grow more pigs," he explains.

Wilmer is a tricycle driver and his meager income isn't enough to provide for his family. But he knows what stewardship means. He knows how to multiply what is given to him. He has my respect for it.

Also from Estancia, Jenoz Raz is now giving back to his family with his earning from cosmetology, particularly in manicure/pedicure. He has earned the trust of his customers, teachers and other professionals, giving him a good income.

"I bought cement and iron sheets for the house, in addition to what World Vision provided. I now contribute for our foods. I now help others because I experienced how it feels to receive when we had nothing.

"The training also gave me confidence to step up and dream big," he smiles.

Jenoz plans to take the Technical Education and Skills Development Authority (TESDA) National Certification (NCII) and work abroad.

I was fascinated by Filipinos' ability to still give no matter how little they may have. I am proud!


The next day, while visiting an island village, I passed by fish traps strategically positioned in the sea. These are owned by Novie Sucgang.
"We understand that the government and aid organizations like World Vision cannot provide everything for us. So we knew we had a counterpart. When we had enough money, we paid for laborers to set up the traps. Now, we're earning an income," she smiles.

Recovery, I still believe, is a not a one-way thing. It's a collective effort. When people learn how to make leaps forward in own their recovery, the sustainability of all outside interventions is possible.

By chance, I ran into 5-year old Ella Mae in Batan, Aklan who was feeding the chickens her grandmother received. She was a sight to behold!

When I see the younger generation take part in what seemed to be a task for the old, I am convinced that there's more reasons to be hopeful. I admire her parents even more for teaching her to care for what they have, to be responsible even at a young age.

Looking from the outside, there have been a lot of changes since that fateful day in November 2013. I can even hardly remember the streets where we had to clear the debris just so our vehicle can pass.
Fifteen months. I believe there's more than the physical and material changes.
As if circumstance would want to show me some more confirmation and affirmation, my feet took me back to Botongon Elementary School where some of my most unforgettable stories were gathered.

While waiting for the videographer to finish the video shoot of the newly-repaired classrooms, a first grader Jhon Rick stood in front of me and gave me a bouquet of flowers, carefully tucked on a stick. His smile was infectious. His eyes reflected much of the changes that I saw in his community, three days after the typhoon.
I smiled back, overwhelmed not just by his gesture but also by the reassuring glances and giggles of the mothers who were around the area.

After a week of meeting so many inspirational survivors, and seeing them move forward I am confident that the project is ready to close. The people of Panay are not only recovering, they are thriving. And I am so, so proud of each and every one of them.
About the author | Florence Joy Maluyo is a communicators officer for World Vision Philippines, focusing exclusively on the Typhoon Haiyan Response for the past 15 months.