Bangkok- To commemorate International Migrants Day (18 December), the Saphan Siang campaign, supported by World Vision and ILO, will host an art exhibition from 16-21 December 2014 at the Bangkok Art and Culture Centre (BACC).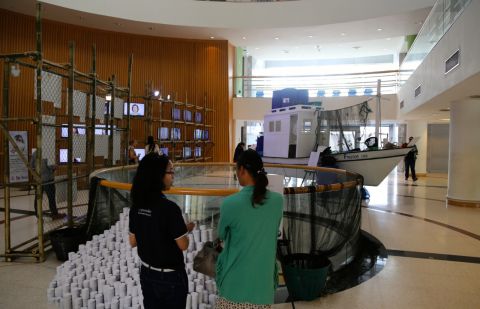 In collaboration with artist collective Public Delivery and artist Phil America, the solo exhibition will highlight migrant workers' experiences living and working in Thailand's fishing communities through an immersive, interactive art exhibition including the installation of a life-size sculptural fishing boat, photography exhibit, 16 channel video installation, and a large scale 3D infographic display.
Documentary photographs by Joe Aphiluck Puangkaew, commissioned by the International Programme on the Elimination of Child Labour (ILO-IPEC) project on Combating the Worst Forms of Child Labour in Shrimp and Seafood Processing Areas in Thailand will be displayed, calling public attention to child labour and child migrant workers.
To give voice to the thousands of migrant workers in Thailand who are all too often silenced, video interviews with migrant workers and their families will be screened on a large scale installation.
The public is invited to attend the event and reflect on their own interactions with migrant workers, address their views and beliefs and reflect on the contribution of migrant workers.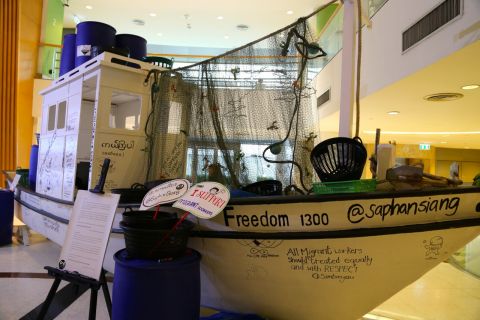 The exhibition also extends online through social media. The public is encouraged to photograph the works and use the hashtags #journeyofvoices and #saphansiang, creating a collaborative collection of perspectives and stories online.
The event is supported by International Labour Organization (ILO), International Organization for Migration, The United Nations Economic and Social Commission for Asia and the Pacific, United Nations Action for Cooperation against Trafficking in Persons, the Australian Department of Foreign Affairs and Trade and Australian Aid.
Although numerous studies confirm that migrant workers contribute significantly to the Thai economy and society, host countries often have negative perceptions and attitudes towards migrant workers.
A 2011 study on public attitudes to migrant workers by the ILO, found that only 4 out of 10 respondents believed that migrant workers make a net contribution to the economy, and 85 per cent agreed that unauthorized migrants cannot expect to have any rights at work.
"The Saphan Siang campaign believes that when attitudes are informed and positive, so are actions. This exhibition is an opportunity to inform attitudes of the Thai public," says Aanas Ali, the Saphan Siang Youth Ambassador Coordinator.
An upcoming report by World Vision's End Trafficking in Persons Programme found that most Thais surveyed have regular encounters with migrant workers. Of those who have witnessed child or young migrants working in dangerous conditions for a local employer, only 10 per cent had reported it or spoken to someone who might assist.
"Protecting migrant workers and ensuring they are treated with the dignity they deserve is a reflection of a strong, compassionate society," says John Whan Yoon, World Vision's End Trafficking In Persons Regional Programme Manager.

[END]

About Saphan Siang Campaign
The Saphan Siang (Bridge of Voices) campaign promotes better understanding between Thais and migrant workers by increasing public awareness on the issues faced by migrant workers, their positive contribution to Thailand's economy and society, and their right to equal protection under the law and in practical access to support services. The campaign seeks to achieve this goal by creating opportunities for interaction between Thais and migrants.
Website: http://saphansiang.org/
About World Vision's End Trafficking In Persons Programme (ETIP)
ETIP is a regional anti-trafficking programme implemented in Cambodia, China, Laos, Myanmar, Thailand, and Vietnam focusing on three main pillars: prevention of the vulnerable from being trafficked, protection of human trafficking survivors, and promotion of improved anti-trafficking government policies.
Website: http://www.wvi.org/asiapacific/etip

About Phil America
Phil America is an artist and writer who has worked and lived in Thailand using photography, installations, video and writing in his works. He concentrates on the human relationship with class, gender and race. He continued his focus on education, furthering his involvement with DEAR Burma, a school for migrants living in Thailand, and is currently working with all 28 museums in Sacramento on a project to tie them together through art. He recently gave a TED talk and spoke at numerous universities and events in California. His texts and photos have appeared in books, magazines and newspapers internationally.
Website: http://philamerica.com/

For media enquiries
Please contact Eliza Marks (marks@iloguest.org), Anna Olsen (olsena@ilo.org), or Albert Yu (albert_yu@wvi.org).
For Thai language enquiries, please contact Aanas Ali (aanas@saphansiang.org) or Duangporn Choktippattana (duangporn_choktippattana@wvi.org)
Fact box
There are more than three million migrant workers in Thailand. They come from neighbouring countries including Myanmar, Cambodia and Lao PDR.
• Thailand is the world's third largest exporter of fish and fisheries products, and its production amounts to a USD 7 billion industry.
• Some estimate that up to 90 per cent of workers in the industry are migrants.
• Facing discrimination, migrant workers are vulnerable to exploitation at the hands of authorities, employers and recruitment agencies.
Hashtags
#journeyofvoices #saphansiang