Tropical Cyclone Pam (TC Pam) which was categorized as Category three hit a number of very remote islands when it moved across the eastern part of Solomon Islands (SI) this week. Malaita and Temotu Provinces were the two provinces affected the most.

Although proper assessments are yet to be carried out, SI National Disaster Management Office (NDMO) reported that in Malaita 22 houses have been damaged or destroyed by the strong wind and heavy rain while couple of houses were destroyed by landslide. Road access into the provincial capital, Auki was cut-off by flooding river and food gardens destroyed by flooding and landslide. There are no reports of loss of lives, however, there has been reports of few injuries due to fallen trees and coconuts.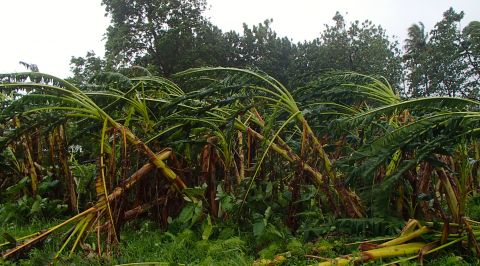 In Temotu, NDMO is in contact with Santa Crus, Vanikoro, Utupua, Duff and Tikopia islands except for Anuta which was unable to contact. There are reports of damaged houses and people have moved inland for shelter. One water source has been contaminated and most of their fruit trees and gardens damaged by the strong wind and heavy rain. Most areas reported their food gardens destroyed and some still underwater. People are now faced with an immediate need for food.

World Vision is partnering with the government (NDMO) and Red Cross to help with the assessment and assist wherever possible.

"We are currently assisting NDMO doing a 'telephone survey' to find out the extent and impact of the damage caused by TC Pam," says Janes Ginting, World Vision Solomon Islands Country Director. "This is the most possible way we can do at this moment before NDMO and other development partners including World Vision deploy its assessment team to reach these areas when the weather permits.

The islands affected are so remote and in normal weather will be reached in 5-7 days by boats.

NDMO is planning an aerial survey over the weekend with the assistance from the Australian Government to assess the damage before relief supplies can be sent to the affected areas.

"At the moment there are no clear reports of the impact of TC Pam from the communities that World Vision works in, however, World Vision is preparing to assist in the recovery of the disaster and will do so once a full assessment is complete," says Mr. Ginting

World Vision has prepositioned disaster relief non-food items in warehouses in Honiara including a 20 ft container at the NDMO office and also in Afio in Malaita and Lata in Temotu that can be immediately dispatched.