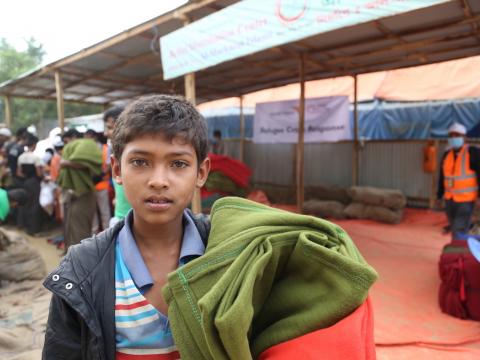 Emergencies
World Vision is well placed to respond to major disasters. A regional disaster management team is trained and ready to respond to local and multi-country disasters. We are a member of the ASEAN Partnership Group that supports disaster management and emergency response in the region.
Current emergency responses
Myanmar-Bangladesh Refugee Crisis
Children
In the aftermath of a disaster, children face many challenges. They need protection from further injury, disease or neglect, and require attention to their basic needs, including psycho-social support.
World Vision's Child-Friendly Spaces provide a vital service for children affected by disaster. These centres offer children a safe place to play, begin emotional healing and re-establish a normal routine and are a key component of World Vision's humanitarian responses.
Shelter and Household Items
The loss of home has many repercussions for a family. Exposure to cold, rain or mosquitoes can be life-threatening, while lack of privacy, the loss of belongings or clothes, and the inability to cook or provide for affected children is distressing for displaced communities. Temporary shelters built from tents or tarpaulins and poles help to protect families during the early stages of an emergency response while community decisions are made on rebuilding more permanent structures. Families also receive items including blankets, tarps, water purification units and tablets, mosquito nets, kitchen sets and hygiene kits.
Water
After most natural disasters, it is likely that all above-ground water supplies have been contaminated with bacteria from the surrounding environment. Drinking this water results in outbreaks of water-borne diseases such as diarrhoea, typhoid or dysentery, while using it for washing can aggravate injuries and infections. Water purification and solutions for poor sanitation in overcrowded conditions can save lives post-disaster.
Local Partnerships
Because of the complexities of most disasters, World Vision often seeks partnership with other entities to maximise the speed and effectiveness of disaster response. Forging relationships with local relief agencies, leaders and government authorities helps World Vision to deliver aid where it is most needed. In many cases where World Vision was already working with the community, existing relationships greatly enhance our immediate disaster response capacity.