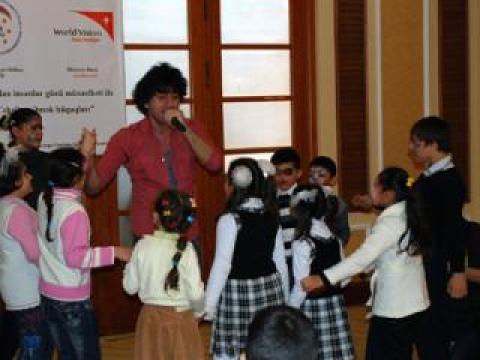 Doors to education slowly open for all children in Azerbaijan
Friday, February 15, 2013
By Vugar Ahmadov
AZERBAIJAN - Almost three years after Azerbaijan signed the UN Convention on the Rights of Persons with Disabilities, World Vision and its partners, including the Ministry of Education, are seeing positive changes in how society, particularly education, is opening up to people with disabilities.
 During the recent celebration of International Day of People with Disabilities, World Vision brought key stakeholders together, including officials from the Ministry of Education and Social and Labor Protection, members of parliament, the member of Council of State Support to non-governmental Organisations Under the President of the Republic of Azerbaijan and members of NGOs to draw further attention to the rights and well-being of people with disabilities and strengthen the network of people working for their rights.
''We are as World Vision Azerbaijan implementing projects for vulnerable children where we work closely with children, teachers, parents and government, but this kind of event helps us and people with disabilities to increase public understanding of the issues around disability and attention to the dignity, rights and well-beings of people with disabilities," said World Vision's Social Inclusion Project Manager, Farida Amirova.
Training teachers to work with children with disabilities has been one key focus of World Vision's inclusive education work in the past few years. "I am planning to create an inclusive centre at the Teachers University and these events are very productive and inspiring for improving this field", explained Rector of the University and member of parliament Aqiya Naxcivanli, speaking of a centre to equip teachers with the skills to work with all children. 
More than just a conference for officials, the event also gave children with disabilities, like seven-year-old Aslimaral Umarova, the opportunity to share their talents through a handicraft exhibition and importantly, gave parents a sense of belonging to a wider community that is slowly opening up to children who were once left on the outer.
"This event empowered our children and ourselves with a feeling that we are not segregated from society, our children have the same rights as others, they can speak and play with others - it's a very joyful event and brought smiles to the little faces of our children," said Zahra Xalafli, mother of Shamkhal.
Over the past two and a half years, World Vision's three-year "De-institutionalisation in Azerbaijan" project has created curriculum for social workers, promoted and enabled inclusive pre-school education, provided teaching methodologies, contributed to the draft law on social services, provided recommendations prepared by legal experts on 23 child-related legislative acts, and also related advocacy measures supported by wide-scale public awareness activities and campaigns. 
Capacity building of school personnel, parents and public awareness are three key components of World Vision's Social Inclusion of Adults and Children with Disabilities programming, which seeks to ensure all children are educated for life and are cared for, protected and participating in their communities.