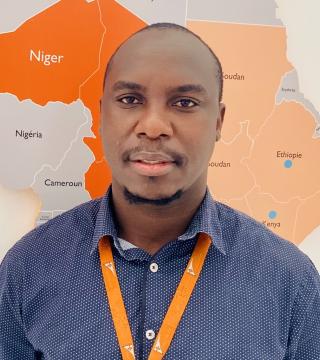 Godfrey Mawaa
Director of WASH for World Vision in West Africa Region (WAR)
Godfrey Mawaa is the Director of WASH for World Vision in West Africa Region (WAR). He provides strategic leadership and technical support to the WASH teams in 9 national offices, leading collaboration efforts with other West Africa Regional Office (WARO) technical functions and networks with relevant external partners to effectively implement defined WASH strategies for the region.
Godfrey's experience in the WASH sector spans more than 15 years, working in diverse environments in both development and emergency contexts. He joined World Vision in 2016 as an Emergency WASH Specialist with the Global Rapid Response Team (GRRT). He has extensive experience working with other agencies in Kenya, South Sudan, Liberia, Mozambique, Ethiopia, Eritrea, Greece (European Refugee Response) and Bangladesh (Rohingya Response).
His particular interest is in water science and policy, with an emphasis on Africa. He is passionate about water diplomacy, with great interest in shared water resources conservation, utilisation and management frameworks as instruments of peace and co-existence rather than being conflict enablers. In 2019, Godfrey joined Africa Nazarene University to undertake a master's degree program in Environment and Natural Resources Management to deepen his understanding of the Environment & Water Nexus. He is a certified Environmental Impact Assessment/Environmental Auditor (EIA/EA).
Godfrey is a Water Engineer. He also holds a Master of Arts in Development Studies degree from the University of South Africa (UNISA) and a postgraduate diploma in International Water Law and the Law of Transboundary Aquifers from the University of Geneva (UNIGE). He is based in Dakar, Senegal.